>>FROM THE EXPERTS


Substance Use Disorders: Stimulants Repurposed Medications Show Promise


by thomas r. kosten, m.d. colin n. haile, m.d., ph.d.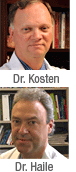 Stimulant dependence is a substance use disorder (SUD) that continues to affect society on many levels. The economic temptation of producing or bringing stimulants or their precursors (methamphetamine and cocaine) across the U.S. border to sell is continuing as certain South American countries now allow full-fledged coca plant cultivation. Containing the flow of illicit drugs within state lines and across U.S. borders is an insurmountable task for any agency, and demand reduction from effective treatments is desperately needed.

Research for these addiction treatments has benefited greatly from neuroimaging studies and "repurposed" medications.

Neuroimaging studies have been essential to understanding central deficits and altered neurotransmission linked to stimulant dependence. For example, recent evidence dispels the widely held misconception that stimulant-dependent individuals are more sensitive to these drugs than the average person, and this is why they become dependent. In fact, the opposite is true. They are less sensitive to the positive euphoric effects of stimulants. This also extends to natural rewards such as food. In contrast, these same individuals are often hypersensitive to stress and overly influenced by environmental cues associated with drug taking that can trigger relapse. Environmental cues that control behavior are influenced by usurped memory circuits. SUDs are often accompanied by comorbid negative mood states that may also contribute to continued drug use through self-medication.

Neuroimaging has revealed that abnormally low dopaminergic neurotransmission is paired with orbitofrontal hypoactivation in stimulant dependence and limits impulse control, executive functioning, and working memory. Medications that modulate dopamine, glutamate, and norepinephrine (NE) neurotransmission that show promise for impulse control and enhance cognition may also be used to treat stimulant dependence.

Doxazosin is a repurposed NE blocker used for hypertension that Newton et al. (2012) recently found blocks cocaine's positive subjective effects and the feeling "likely to use cocaine" in cocaine-dependent volunteers after a cocaine infusion. An outpatient clinical trial is presently examining this medication for decreasing cocaine use. Another repurposed medication, the angiotensin-converting enzyme inhibitor and antihypertensive perindopril blocks the cardiovascular and positive subjective effects of methamphetamine. The commonly prescribed antidepressant bupropion has also shown some efficacy in decreasing methamphetamine use in moderate users. Rivastigmine, used in the treatment of dementia, significantly decreased "likely to use methamphetamine" in dependent volunteers. Finally, the atypical stimulant modafinil, used to treat narcolepsy, blocks cocaine's positive subjective effects and has decreased cocaine use in a select subpopulation.

Psychiatric addiction research has benefited from repurposing a wide range of medications. The science behind using these medications is based on understanding from neuroimaging of damaged and reinforcing human neural circuits due to addictive stimulants. For the most part, the development of effective treatments for this pernicious disorder appear promising.

References

1. Kosten TR, Newton TF, De La Garza II R, Haile CN. Cocaine and methamphetamine dependence: advances in treatment. 1st ed. Amer Psychiatric Pub; 2011.

2. Newton TF, De La Garza R, Grasing K. The angiotensin-converting enzyme inhibitor perindopril treatment alters cardiovascular and subjective effects of methamphetamine in humans. Psychiatry Res 2010 Aug;179(1):96-100.

3. Newton TF, De La Garza R 2nd, Brown G, Kosten TR, Mahoney JJ 3rd, Haile CN. Noradrenergic α(1) Receptor antagonist treatment attenuates positive subjective effects of cocaine in humans: a randomized trial. PLoS ONE 2012;7(2):e30854. [Cited 2012 Feb 13 ]

4. De La Garza R 2nd, Newton TF, Haile CN, Yoon JH, Nerumalla CS, Mahoney JJ 3rd, Aziziyeh A. Rivastigmine reduces "likely to use methamphetamine" in methamphetamine-dependent volunteers [Internet]. Progress in Neuro-Psychopharmacology & Biological Psychiatry 2011 Dec. [Cited 2012 Feb 13] Available

here

.



Thomas R. Kosten, M.D., is the J.H. Waggoner Professor of Psychiatry, Pharmacology and Neuroscience, vice chair for psychiatry, and codirector of the Institute for Clinical and Translational Research at Baylor College of Medicine. His other key appointments are Distinguished Professor of Psychiatry at Peking University Medical School and professor of epidemiology and of behavioral health at M.D. Anderson Cancer Prevention Center. Colin N. Haile, M.D., Ph.D., is an assistant professor at Baylor College of Medicine, Menninger Department of Psychiatry and Michael E. DeBakey VA Medical Center. His primary focus is research facilitating the development of pharmacotherapies from preclinical stage to clinical application. He and Kosten are the coauthors of Cocaine and Methamphetamine Dependence: Advances in Treatment from American Psychiatric Publishing. APA members may purchase the book at a discount here.

>>Back to Newsletter


Advertisement
 subscribe to blog rss
>>subscribe to blog via email