Address Mental Health's Social Determinants Through Policy Change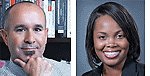 In addition to treating mental illness, psychiatrists have a role in improving mental health and reducing risk for mental illness. Individual, patient-level opportunities exist for pursuing these prevention goals, but promoting mental health and preventing mental illness are most effectively carried out at the population level, through policy changes that address the social determinants of mental health. Read more.

Michael Compton, M.D., M.P.H., is chair of psychiatry, and Ruth Shim, M.D., M.P.H., is vice chair for education and faculty development in the Department of Psychiatry at Lenox Hill Hospital in New York. They are coeditors of The Social Determinants of Mental Health from American Psychiatric Publishing, which members can order at a discount here.
APA President to Lead Dialogue With Helen Mayberg, M.D., and Patrick Kennedy


APA President Paul Summergrad, M.D., will be joined in a special conversation following the Opening Session with the Hon. Patrick Kennedy and Helen Mayberg, M.D., for a thought-provoking and wide-ranging conversation about neuroscience opportunities in psychiatry, the role of advocacy, and the challenges of talking about complex neuropsychiatric illness and mental health more broadly. Early bird registration for APA's annual meeting ends February 24. To register, click here.
Rep. Murphy Pushes for Comprehensive MH Reform Law



APA President Paul Summergrad, M.D., was among those who spoke a meeting on Capitol Hill yesterday in which Rep. Tim Murphy (R-Pa.) announced that he is reintroducing in Congress his bill Helping Families in Mental Health Crisis Act, a comprehensive reform of the American mental health system. Murphy outlined the bill as he was awarded the 2014 Torrey Advocacy Commendation by E. Fuller Torrey, M.D., founder of the Treatment Advocacy Center. Read more.
APA President Responds to New York Times About Psychiatric Diagnosis



In yesterday's New York Times, APA President Paul Summergrad, M.D., set the record straight about the usefulness of DSM-5 diagnoses in a response to an Op-Ed article by T.M. Luhrmann. She had stated that the National Institute of Mental Health "determined that existing diagnoses 'were neither particularly useful nor accurate for understanding the brain and would no longer be used to guide research.' " Summergrad pointed out that she did not mention a joint statement by NIMH's director, Thomas Insel, M.D., and then-APA President Jeffrey Lieberman, M.D., which explained: "All medical disciplines advance through research progress in characterizing diseases and disorders. DSM-5 and RDoC (Research Domain Criteria) represent complementary, not competing, frameworks for this goal." Read more.
APA Releases Employer Guide on MH Parity



Here's one way you can help your patients ensure they are getting the mental health benefits to which they may be entitled. The American Psychiatric Foundation and its Partnership for Workplace Mental Health have released an updated version of its employer guide for compliance with the mental health parity and addiction equity act. The guide provides employers with information to help them understand the Mental Health Parity and Addiction Equity Act of 2008 and comply with the law. This knowledge is particularly important because employers are liable for noncompliance and subject to potentially significant penalties – as high as $100 per member per day of noncompliance. Being armed with this information will help you and your patients know their rights under the parity law.
How Can We Achieve MH Parity If There Are Not Enough Psychiatrists?



Psychiatrists may be the center of mental health treatment, but even they are concerned about how hard it is for people to find quality mental health care. Philip Muskin, M.D., addresses the problems and some practical solutions at the website "Care for Your Mind." This website was created by the Depression and Bipolar Support Alliance and Families for Depression Awareness. Read more.
Don't Forget to Vote—Your Voice Matters!



Only a few days remain to vote in APA's 2015 election—don't be left out! Ballots were sent to all APA voting members on January 2. Voting members who have a valid e-mail address on file with APA were sent their ballot by email; those who do not should have received a mailed paper ballot. To see the list of candidates and links to their personal websites, click here. If you do not have your election login information, please click here, enter the email address you have on file with APA, and your election login information will be emailed to you. The deadline for online voting and receipt of paper ballots is February 2 at 11:59 p.m. EST.
Loan Repayment Program Applications Now Being Accepted



The 2015 National Health Service Corps Loan Repayment Program application cycle is now open and will close on March 30, at 7:30 p.m. EST. This program provides loan repayment assistance to licensed primary care medical, dental, and mental and behavioral health providers who serve in communities with limited access to health care. There are both full-time and half-time service options. Available resources include the application and program guidance and instructions on how to apply.
Register for Webinar on Medication Misuse and Addiction in the Elderly



Addiction is often overlooked as an important clinical issue in older adults. However, with a rapidly growing population of older adults who grew up during an era of increased illicit drug and alcohol use, there are reasons to believe that there will be a greater impact of alcohol and prescription drug abuse on the next generation of older adults. This webinar will review clinically relevant concepts related to identifying, assessing, and treating older adults with addiction-related disability and describe the state of research in this area. For more information and to register, click here.
Adolescent Psychiatry Meeting to Be Held in New York City



The American Society for Adolescent Psychiatry is holding a joint meeting with the International Society for Adolescent Psychiatry and Psychology from March 26 to 29 at the New York Marriott East Side Hotel. The meeting, whose theme is "The Art and Science of Adolescent Psychiatry and Psychotherapy," will begin with a review course in adolescent psychopharmacology and continue with daily plenary lectures and breakout workshops and symposia, poster sessions, and practice-specific practical workshops. Register now.
Get Help With Secure Payment Solutions



APA's member benefit for payment processing is TransFirst. With more than 15 years of experience, TransFirst offers innovative, industry-compliant, point-of-sale (POS) and terminal products; wired, wireless, mobile, and Internet-based payment solutions; U.S.-based merchant support 24/7; state-of-the-art security and data-protection technologies; and pricing structures for businesses of every size. TransFirst offers your practice one contract for all card brands, including American Express. Call TransFirst at (800) 613-0148 for a free savings analysis or visit its website for more information.
Auto and Home Insurance Can Give You Peace of Mind



Liberty Mutual offers APA members savings on auto and home insurance. Along with coverage, advice, and personalized service, you receive unique benefits such as Better Car Replacement, Accident Forgiveness, Home Protector Plus, and Multi-Policy Discount. Call (800) 524-9400 or visit liberty mutual to learn more or get a free quote.

>>INTEGRATED CARE: WHAT IT MEANS TO YOU

CMS Aims to Complete the Move Toward Value-Based Physician Payment



Health and Human Services (HHS) Secretary Sylvia M. Burwell has announced measurable goals and a timeline to move the Medicare program and the health care system at large toward paying providers based on the quality, rather than the quantity, of care they give patients. HHS has set a goal of tying 30 percent of traditional, or fee-for-service, Medicare payments to quality or value through alternative payment models, such as accountable care organizations or bundled payment arrangements by the end of 2016, and tying 50 percent of payments to these models by the end of 2018. HHS also set a goal of tying 85 percent of traditional Medicare payments to quality or value by 2016 and 90 percent by 2018 through programs such as the Hospital Value-Based Purchasing and the Hospital Readmissions Reduction programs.

"We believe these goals can drive transformative change, help us manage and track progress, and create accountability for measurable improvement," the secretary said in a statement. Read more.

Screening for Behavioral Disorders Needed in Primary Care



Philly.com commented this week on a report by the American Academy of Pediatrics (AAP) showing that behavioral and emotional concerns are not readily identified and treated in the nation's health system. The website noted, on the basis of the AAP report, that 11 percent to 20 percent of children suffer from a diagnosed mental or behavioral disorder, and it is estimated that only 1 in 8 children receives treatment. The most common emotional and behavioral problems include attention-deficit/hyperactivity disorder, oppositional defiant disorder, anxiety, and mood disorders. "The earlier that these problems are identified and treated, the better the outcome," the article stated. Read more.

University of Texas Awarded Grant to Support Integrated Care



The University of Texas Health Science Center at San Antonio and the University of Texas Rio Grande Valley School of Medicine have been awarded a $2,880,342 grant over three years by United Health Foundation to help support the Colonia Integrated Care Program: VIDAS (Valley Interprofessional Development And Services), according to an article in yourvalleyvoice.com. The print and Web publication serves the Edingburg/McAllen areas of southern Texas. The initiative aims to unite the region by building an interprofessional collaborative that will create a sustainable model for health care delivery to the most vulnerable members of the community. Read more.

Publications From American Psychiatric Publishing

Psychiatric News
Old Ways Need to Change When Integrating Care in Huge System



Providing integrated care, whether in behavioral health or general medical settings, requires significant organizational effort to add and retrain staff and redesign that organization's care delivery processes. Too often, organizations face the additional challenge of having to execute this work within a broader health care delivery, financing, and regulatory environment that is designed to support siloed care. Read more.

For other Psychiatric News articles on integrated care, click here.
Message from Lara Cox, M.D.

Resident-Fellow Member Trustee



One of my responsibilities as RFM Trustee is to coordinate the Residents' Forum in Psychiatric News, and I'd like to invite all of you to submit a piece for the column! We are looking for the RFM perspective on issues that affect us or are uniquely important to us as trainees and beginning clinicians. Participating in the column is a wonderful opportunity to publish early in your career. Columns should be 500 to 600 words in length. If you would like to submit a column, please contact me at larajcox.apa@gmail.com. Also, please feel free to be in touch with any questions about participating or about RFM issues in general. Thanks, and I look forward to hearing from you!


Advertisement



>>MOST VIEWED ARTICLES IN
PSYCHIATRIC NEWS LAST WEEK

>>Erotic Transfer in Borderline Personality Patients

>>ICD Codes for Some DSM-5 Diagnoses Updated

>>Accepting Loss Said to Be Key to Overcoming Narcissistic Injury

>>DSM-5 Provides New Take on Neurodevelopment Disorders

>>'DICE' Rolls to New Approach for Treating Dementia Symptoms

>>CURRENT ISSUE OF PSYCHIATRIC NEWS

>>Study Points to Caudate Nucleus as Contributor to OCD Symptoms

>>Simple Method May Predict Recovery From Concussion

>>More Than 16 Million Youth Can Legally Buy Electronic Cigarettes

>>Learning About Spirituality Improves Competency

>>Resident's Video Series Explores Asian Americans' Unique MH Issues

Advertisement

>>BOOKS

American Psychiatric Publishing
Book of the Week

The American Psychiatric Publishing Textbook of Substance Abuse Treatment, Fifth Edition

Edited by Marc Galanter, M.D., Herbert D. Kleber, M.D., and Kathleen T. Brady, M.D., Ph.D.

>>description, contents, and reviews

>>order the book

>>APA JOB CENTRAL

Job Hunting Made Easy: Here's Help



For current job opportunities from the job board at APA Job Central, click here. In addition to searching the site for available positions, APA members may post their resume, set up email job alerts, and access a "job seeker" account.

>>APA PERIODICALS

Check out the latest issues of
APA's major periodicals.

Psychiatric Services

>>Minority-White Comparison Masked Notable Disparities
Collapsing veterans from minority groups into one umbrella category obscured meaningful disparities in use of emergency and inpatient services by members of specific racial-ethnic subgroups.

>>Treatment Rates Plunge Among Young Adults
Use of mental health services for psychiatric disorders plunged during young adulthood, according to a longitudinal study that tracked children's use of services from age 13 to age 26.

>>ACA Likely to Boost Mental Illness Treatment Need
National survey data indicate that significant numbers of individuals who may gain insurance as a result of the Affordable Care Act will require treatment for a behavioral health condition.
American Journal of Psychiatry

>>Treatment of Maternal Depression in a Medication Clinical Trial and Its Effect on Children
Escitalopram, bupropion, and combined escitalopram/bupropion all reduced depressive symptoms in mothers, but only escitalopram monotherapy improved depressive symptoms in the children as well.

>>Distinguishing Adolescents With ADHD by Neural Activation Patterns During Response Inhibition
Neural activation alterations in ADHD during response inhibition were more robust than behavioral deficits. Affected participants and unaffected siblings had hypoactivation in inferior frontal and temporal-parietal nodes.
>>subscribe to blog rss
>>subscribe to blog via email