APA Supports Nomination of Dr. McCance-Katz



APA has announced its strong support of the nomination of Elinore McCance-Katz, M.D., Ph.D., to be the first Assistant Secretary for Mental Health and Substance Use in the Department of Health and Human Services. APA is urging the Senate to swiftly confirm her nomination and asks APA members to contact their senators in support of the nomination as well. Read more.

Learn How to Conduct Motivational Interviewing in Free Webinar



The May 9 webinar "Motivational Interviewing for Clinical Practice" will provide a clear presentation of motivational interviewing that is readily transferable to everyday clinical practice. Motivational Interviewing is a clinical style for engaging patients in treatment, enhancing motivation to reduce substance use, and supporting adherence to recommended behavioral or pharmacological treatments. To obtain more information and to register, click here.
New Medicare Quality Payment Program Resources Available



The Centers for Medicare and Medicaid Services (CMS) has posted three new, helpful resources to the Quality Payment Program website. These will be of interest to psychiatrists who see Medicare beneficiaries and receive Part B payments.
mips participation fact sheet: This fact sheet provides information about who is eligible, who is exempt, and how to participate in the MIPS program. According to CMS, over 49% (over 16,000) of the 33,000 psychiatrists whose services are reimbursed under Medicare Part B will be exempt from MIPS reporting in 2017 (and MIPS penalties in 2019) under the "low-volume threshold" (100 patients or $30,000 in billings, per year).
mips improvement activities fact sheet: This has details on how to select and submit improvement activities, reporting criteria, and scoring. Psychiatrists who are subject to MIPS reporting requirements may avoid MIPS penalties in 2019 by simply reporting one improvement activity for 2017 (by March 30, 2018).
2017 cms-approved qualified registries: This resource provides details about the registries qualified to report data for the MIPS Quality, Advancing Care Information (EHR use), and Improvement Activities performance categories in 2017. The APA's own registry, PsychPRO, appears on page 88.
For More Information
The APA's payment reform toolkit includes detailed fact sheets and links to recorded webinars about the MIPS program, as well as Medicare incentives for "Advanced" Alternative Payment Models.
Need assistance? Send an email to qualityandpayment@psych.org or by call (800) 343-4671.
CMS has more resources posted on the quality payment program website. You may also send your questions to CMS at qpp@cms.hhs.gov or (866) 288-8292 (TTY [877] 715- 6222), Monday through Friday, 8 a.m.-8 p.m. ET.
Educate Your Patients About Opioid Misuse and How to Avoid It



APA is supporting an AMA initiative to encourage physicians to talk to patients about how to avoid the misuse of opioids and their falling into the wrong hands, as well as how to store and dispose of them safely. Learn more.
APA's Telepsychiatry Toolkit Is Growing!



The Telepsychiatry Toolkit, an online resource for psychiatrists who want to learn more about integrating telepsychiatry into their practice, has been updated with new content. Also new is the Technical Considerations section, which includes information about choosing appropriate software for telepsychiatry and addressing potential security concerns related to live videoconferencing. check it out!
Your Opinion Wanted on Medicare Quality Reporting Survey



Are you (or your practice) ready for Medicare's new Quality Payment Program? The Council of Medical Specialty Societies (CMSS) is sponsoring a brief survey to gather information from physicians about their plans to participate in the new Merit-Based Incentive Payment System (MIPS) or in "Advanced" Alternative Payment Models. The survey is voluntary and anonymous. If enough psychiatrists complete it, APA will receive a summary of the findings, which can help inform our advocacy and education on these new incentive programs. The survey will be open for the next few weeks and should take less than five minutes to complete. Questions? Contact Eileen Carlson, APA director of reimbursement policy, at ecarlson@psych.org or (703) 907-8590.
New Wave of Sunshine Act Data Now Available for Review



From April 1 to May 15, physicians can review and dispute data on payments or other transfers of value from pharmaceutical and medical device manufacturers that were reported to the Centers for Medicare and Medicaid Services (CMS) for 2016. All disputes must be resolved directly with manufacturers by May 30; they are responsible for reporting the corrected data to CMS. Public access to the 2016 payment data, as well as updates to data for 2013, 2014, and 2015, begins on June 30.

The collection and reporting of these data are required under the Physician Payment Sunshine Act (PPSA), part of the Affordable Care Act. If you plan to review your data, test your CMS enterprise portal (EIDM) log-in credentials beforehand. Accounts that have not been accessed recently are locked; if your account has been locked, see faqs for EIDM users. If you have not yet registered on the Open Payments portal, see the resources that APA has posted on its website.
April Course of the Month Now Available



APA's course of the month for April, "Managing the Side Effects of Psychotropic Medications," is now available to APA members at no cost in the APA Learning Center. The APA Learning Center offers 200+ activities, many of which are free or discounted for members. It's a great place to focus on specific topics, learn at your convenience, and meet MOC/MOL requirements. browse the wide range of offerings today.
Make the Exhibit Hall a Priority!



Mark your calendar to visit the Exhibit Hall from May 20 to 23 in the San Diego Convention Center. More than 250 exhibitors will be hand, including pharmaceutical companies, job recruiters, publishers, and vendors of technological and other services. The main objective is you! Check out the floor plan and list of exhibitors so that you don't miss out. New this year:
Mid-Day Mingles: Take a break from sessions to meet with exhibitors and enjoy light refreshments as you browse the Exhibit Hall.
APA Raffle: Stop by and meet with those exhibitors you have identified as your "must sees" and you could receive the winning APA raffle prize of a $500 American Express gift card.
ABC News Anchor to Be Interviewed by Nora Volkow, M.D.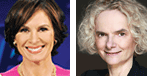 The Opening Session of the Annual Meeting will conclude with a special session in which ABC news anchor Elizabeth Vargas and Nora Volkow, M.D., will engage in an inspirational and educational conversation about addiction. Read more.
What Sessions Should You Attend?



APA has developed the 2017 annual meeting self-assessment to help meeting registrants test their knowledge of current topics in psychiatry—information they can use to plan their meeting schedule. Participants can earn up to 8 hours of AMA/PRA Category 1 credit™ and earn 8 credits toward the self-assessment component of MOC. Meeting registrants will receive a link and access code for the exam in their registration confirmation email.
Session Titles, Details Just a Click Away



Looking for sessions on specific topics? or by specific speakers? A new tool on APA's website will make it easy for you to search the meeting's scientific program as well as view all of the sessions by clicking on the tab for each day of the meeting.
Psychiatric Services Achievement Awards: Call for 2018 Nominations



Since 1949, APA has recognized creative models of service delivery and innovative programs for persons with mental illness or disabilities with the Psychiatric Services Achievement Awards. If you know a program whose work in these areas deserves recognition, submit a nomination today.
Encourage Your Med Students to Apply for 'Helping Hands' Grant



The American Psychiatric Association Foundation is accepting applications for its helping hands grant program. The Helping Hands Grant Program provides grants of up to $5,000 to medical schools for mental health and substance use disorder projects, particularly in underserved minority communities. These projects are developed and managed by medical students, in partnership with community agencies or in conjunction with ongoing medical school outreach activities. The deadline to apply is May 31.
Call for Other APA Award Nominations



Nominations are being sought for several APA awards, including those in the areas of residency education, schizophrenia research, forensic psychiatry, medical student education, general psychiatry teaching, service delivery creativity, and program innovation. Know someone whose work in psychiatry deserves recognition? Learn more about each award and make a nomination today!
Student Loan Savings for APA Members, Friends, Family



credible makes it quick and easy for APA members,* friends, and family members to save on their student loans; you decide which federal and/or private loans to refinance. As a multi-lender marketplace that allows borrowers to receive competitive loan offers from its vetted lenders, Credible empowers consumers to take control of their student loans. Borrowers can fill out one form and then receive and compare personalized offers from numerous lenders and choose which best serves their individual needs. learn more about Credible and the $150 Visa gift card offer.

*Refinancing service is available only to U.S. citizens and permanent residents with a permanent address in the United States.
Become a Fellow of APA (FAPA)



Earn the FAPA designation by becoming a fellow of the apa. APA Fellows are committed to psychiatry and the ongoing work of the APA. You'll be among the prestigious 25% of APA general membership and be recognized at the 2018 Annual Meeting at the 62nd Convocation of Distinguished Fellows. There are no additional fees or dues payments. Simply complete the application by September 1!
INTEGRATED CARE: WHAT IT MEANS TO YOU
Collaborative Care Leaders Seek to Bring Model to Residency Training



The Collaborative Care Model (CoCM) may be an opportunity for psychiatry training programs to leverage stressed manpower resources to support primary care clinics served by the department, while teaching young psychiatrists the skills necessary for the health system of the future. Read more.
FOR RESIDENTS AND FELLOWS
AJP Residents' Journal



The April issue of the Residents' Journal focuses on issues related to physician and trainee burnout and suicide. There are also articles on a proposal to improve the path to becoming a child psychiatrist and a resident's perspective on medical student education. Visit ajp's residents' journal.
Annual Meeting to Offer Leadership Track for RFMs, ECPs



As residents transition into early career, few have any formal training in organizational issues, teaching, or leadership. An expanded track of sessions at APA's 2017 Annual Meeting aims to train and guide the participants to become future leaders in the field of psychiatry. Sessions are open to all residents and early career psychiatrists and may be especially helpful for those transitioning into a chief resident role. read more and register now.
Get Published!



Writing for professional journals and other outlets can increase your professional impact and reputation. Learn how in "Creating Your Voice: A Guide to Publishing in Psychiatric Services," a workshop hosted by Editor Lisa B. Dixon, M.D., M.P.H., and other editorial board members and contributing editors. The workshop, to be held Saturday, May 20, from 1:30 p.m. to 3 p.m., will cover how to publish various types of articles for the journal, from research reports to commentaries, and what to expect during the peer review process. For further information, e-mail psjournal@psych.org.

MOST VIEWED ARTICLES IN
PSYCHIATRIC NEWS LAST WEEK
Which Metabolic Panel for Psychiatric Practice: Basic or Comprehensive
Using Many Social Media Platforms Linked With Depression, Anxiety Risk
Number of Seniors Who Are Prescribed Multiple Psychotropics Rising Fast
How to Diagnose and Treat Disruptive Mood Dysregulation Disorder
Advanced Training in Collaborative Care Offered in APA Online Program
CURRENT ISSUE OF
PSYCHIATRIC NEWS
High Service Use Seen in Medicaid Patients Who Later Died by Suicide
Inadequate Weight Gain During Pregnancy May Increase Risk of Psychosis in Offspring

Becoming a Competent Psychotherapy Supervisor: How Do I Get There From Here?
Amygdala Activity May Predict Future Cardiovascular Events
Psychiatrist Teams With Elyn Saks on Opera Depicting Psychosis

American Psychiatric Association Publishing
Book of the Week


DSM-5 Pocket Guide for Child and Adolescent Mental Health

Robert J. Hilt, M.D., FAAP, FAACAP, FAPA, and Abraham M. Nussbaum, M.D., FAPA

>>description, contents, and reviews

>>order the book

Job Hunting Made Easy: Here's Help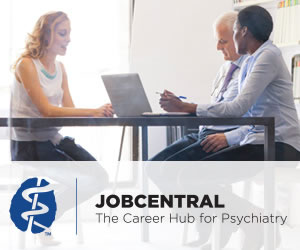 Click here for current job opportunities in APA JobCentral. Search the site for available positions, post your resume, and set up job alerts.
Check out the latest issues of
APA's major periodicals.

Psychiatric Services

As Consumers' Participation Rises, Self-Stigma Lessens
Being able to express their views to a provider, including challenging the doctor's opinion and openly speaking out about disagreements, was associated with lower levels of shame and self-stigma among 329 consumers with serious mental illnesses.

Parents' Sex and Attitudes Toward Postpartum Depression
An online survey using a "feeling thermometer" found that public attitudes toward women who experience postpartum depression were much warmer than attitudes toward men experiencing the same symptoms.

Technology and Mental Health Treatment: Problems and Solutions
Randomized, controlled trials have demonstrated the efficacy of mental health technologies, but in the real world, these improvements have not been sustained. The authors of the Mental Health and Technology column discuss three widely held misconceptions that they believe are holding back the field—and how to correct them.








>>subscribe to blog rss
>>subscribe to blog via email