The public comment period for APA's draft practice guideline titled "Pharmacological Treatment of Patients With Alcohol Use Disorder" is under way. Please review and submit feedback on the draft by March 17. A PDF version of the draft and instructions on how to comment are posted on apa's website.


Important Change Announced for Logging Into APA Website



Starting Monday, February 27, your username and password for logging into APA's website need to be updated. The new log-in requires use of the email address you have on file with APA and a new password. You can complete these actions by selecting "Forgot Password?" on the account login page or by calling APA customer service at (703) 907-7300. You can also reset your password through the email you will receive from APA next week. If you don't have an email address on file with APA, please email it to membership@psych.org or call (703) 907-7300.

Your updated account will allow you to do the following:
Quickly pay your dues online or enroll in a scheduled payment plan.
Complete your profile to enjoy a more personalized membership experience.
Update your email communication preferences.
Enroll in your Members' Course of the Month and 90+ other CME activities free to members in the APA Learning Center.
Please note that some APA systems will be offline between Friday, February 24, and Monday, February 27.

APA Announces Results of 2017 Election



Altha Stewart, M.D., has been chosen APA's next president-elect. Stewart is an associate professor of psychiatry and director of the Center for Health in Justice Involved Youth at the University of Tennessee Health Science Center in Memphis. Stewart's term as president-elect will begin at the conclusion of APA's 2017 Annual Meeting. click here to learn about all the election results.
CMS to Offer Webinars on Service Delivery for Dual Eligibles



The Centers for Medicare & Medicaid Services is sponsoring a series of webinars to improve the quality and delivery of care for dually eligible individuals. These webinars provide resources for health plan and PACE organization staff, including directors of medical care, care management/care coordination staff, long-term services and support staff, and behavioral health staff. The first webinar will be held Friday, February 24. To obtain more information and to register, click here.
Nora Volkow, M.D., Presents APA's Free Course of the Month



The February course of the month is "myths and misperceptions of opioids and cannabis," available to APA members only at no charge. Nora Volkow, M.D., director of the National Institute on Drug Abuse, discusses misconceptions that contribute to the opioid epidemic and the inappropriate treatment of opioid use disorders. She also highlights the ongoing research efforts to better understand both the positive and negative potential of cannabis.
Thinking About a Career Move? Check Out JobCentral



APA JobCentral is the career hub for psychiatry. View open positions, post a resume, or set up email job alerts. Visit jobcentral to view recently posted jobs, such as telepsychiatry opportunities with JSA Health or multiple opportunities in Los Angeles County, Calif. Browse through hundreds of other job openings across the country and around the world.
Advance Registration Rates Now in Effect!



Save on Annual Meeting fees by taking advantage of low advance registration rates. Also, hotel rooms near the San Diego Convention Center are going fast, so don't delay reserving your room. Learn the latest about special sessions and events at the meeting and register today.
Nora Volkow, M.D., to Interview ABC Anchor Elizabeth Vargas



Award-winning journalist Elizabeth Vargas will present the William C. Memorial Convocation Lecture on Monday evening, May 22. Afterward, she will be interviewed by Nora Volkow, M.D., director of the National Institute on Drug Abuse and a leading expert on the neuroscience of drug addiction. Last fall, Vargas published her memoir, Between Breaths: A Memoir of Panic and Addiction. The book details her struggles with anxiety and alcohol abuse and tells a powerful story of recovery and coping. The interview promises to give insight on both addiction as a human disease and the struggle to overcome it. read more
Get Connected to Meeting Through App



The APA Meetings App is now live! It features preliminary information about APA's 2017 Annual Meeting, including registration details; travel and hotel information; and information about the meeting's tracks, major sessions, and other learning opportunities. Create your profile now in the app and start communicating with other registered attendees. If you don't already have the app, just visit psychiatry.org/app on your mobile device or tablet; the app is also available through the apple store and google play.
Interested in How Psychiatry Can Benefit From Innovation?



Don't sit on the sidelines—plan to participate in the Psychiatry Innovation Lab at this year's Annual Meeting. You can do so by pitching an innovative idea to improve mental health care delivery through a number of avenues, join a team to evaluate and improve upon the ideas pitched by others, or sign up to attend the event. The session will be held Sunday, May 21, from noon to 5 p.m. in the Mental Health Innovation Zone at the San Diego Convention Center. learn more and sign up now!
Postdoctoral Traineeship in Drug Abuse Treatment, Services Research



The University of California, San Francisco, is seeking talented doctoral students for its Postdoctoral Traineeship in Drug Abuse Treatment and Services Research, a two-year program funded by the National Institute on Drug Abuse. The program prioritizes the training of psychiatrists, women, and minorities for academic research careers. For more information and application instructions, visit psych.ucsf.edu/datsrtp.
Don't Get Dropped!



March 31 is the last day to pay your 2017 dues and continue your member benefits without interruption. As we work toward new member opportunities and initiatives, we look forward to your continued support. It's not too late! renew your membership today and keep building on the success we have already achieved together. Prefer to pay your dues over time? Sign up for the scheduled payment plan to make smaller payments monthly, quarterly, or biannually.
Get a $100 Cash Rewards Bonus While Supporting APA



The BankAmericard Cash Rewards™ Visa Signature® credit card for APA members lets you earn more cash back for the things you buy most: 1% cash back on purchases, 2% at grocery stores and now at wholesale clubs, and 3% on gas for the first $2,500 in combined grocery store, wholesale club, and gas purchases each quarter. apply now.
INTEGRATED CARE: WHAT IT MEANS TO YOU
Publications From American Psychiatric Association Publishing

Psychiatric News
Expand Your Practice Opportunities Through Integrated Care



Integrated care continues to be an exciting area of growth and opportunity for psychiatrists. This year's Annual Meeting is again offering a broad range of educational sessions to prepare psychiatrists to practice in integrated or collaborative care settings. Sessions will cover basic skills for consulting psychiatrists, models for training residents, emerging research to improve the health status of the seriously mentally ill population, how-to guide for implementing integrated care, and much, much more. See the entire track and register now.


Psychiatric Services
California Law Transforms MH System in L.A. County



Los Angeles County's public mental health system was able to transform service delivery in response to well-funded policy mandates. Clients reported stronger relationships and a better working alliance with providers. For providers, a structure emphasizing accountability and patient centeredness was associated with greater stress, despite small caseloads. Read more.
FOR RESIDENTS AND FELLOWS
Annual Meeting to Offer Leadership Track for RFMs, ECPs



As residents transition into early career, few have any formal training in organizational issues, teaching, or leadership. An expanded track of sessions at APA's 2017 Annual Meeting aims to train and guide the participants to become future leaders in the field of psychiatry. Sessions are open to all residents and early career psychiatrists and may be especially helpful for those transitioning into a chief resident role. read more and register now.
MindGames Registration Now Open



MindGames, APA's national residency team competition, is a fun way for residents to test their knowledge on patient care, medical knowledge, and psychiatry's history while earning bragging rights for their program. For more information and to register, click here.
New Issue of AJP Residents' Journal Now Available



The February issue focuses on topics related to disorders in children and adolescents, including autism, bipolar disorder, pediatric delirium, and early-onset schizophrenia. Visit ajp's residents' journal.

MOST VIEWED ARTICLES IN
PSYCHIATRIC NEWS LAST WEEK
DSM-IV-TR Diagnostic Criteria for Antisocial Personality Disorder (301.7)
American Journal of Psychiatry Recognized for Important Studies Published in 2016
How to Diagnose and Treat Disruptive Mood Dysregulation Disorder
Aggression Comes in Four Types, Psychoanalyst Explains
Media Cling to Stigmatizing Portrayals of Mental Illness
CURRENT ISSUE OF
PSYCHIATRIC NEWS
APA 2017 Annual Meeting Preliminary Program
Earn MOC Credit Through Special Annual Meeting Sessions

Symposium to Examine How Psychiatry Can Help Stem Racism
Expand Your Practice Through Special Collaborative Care Sessions
NIAAA Track to Highlight Advances in AUD Diagnosis, Treatment

American Psychiatric Association Publishing
Book of the Week


Long-Term Psychodynamic Psychotherapy: A Basic Text, Third Edition

Glen O. Gabbard, M.D.; Series Editor: Glen O. Gabbard, M.D.

>>description, contents, and reviews

>>order the book

Job Hunting Made Easy: Here's Help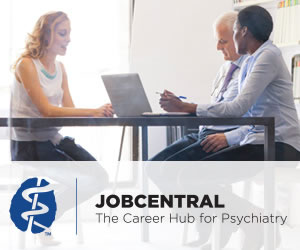 Click here for current job opportunities in APA JobCentral. Search the site for available positions, post your resume, and set up job alerts.
Check out the latest issues of
APA's major periodicals.

Psychiatric Services

Few Primary Care Patients Are Screened for Depression
Fewer than 5% of primary care patients were screened for depression in 2012 and 2013, despite recommendations for routine depression screening in primary care. Screening rates were even lower among African Americans, older adults, and men.

Intensive Service Utilization in the Lead-Up to Suicide
Ohio Medicaid enrollees who died by suicide between 2008 and 2013 had a median of 16 health care visits in the year prior to suicide, indicating a subgroup with intensive service utilization.

Follow-Up Treatment After a Class Action Lawsuit
Follow-up treatment rates are examined in a New York City hospital that is required under the terms of a class action lawsuit to provide outpatient follow-up within seven days of discharge from an inpatient psychiatric unit.








>>subscribe to blog rss
>>subscribe to blog via email