New ICD-10 codes reflecting updated diagnoses in DSM-5 went into effect on October 1. APA has learned that some members are still using the old codes and thus are encountering denied claims. You can obtain a list of the new codes here, including a version that can be printed out for easy reference.

CMS Issues Final Rule on MACRA; APA to Help You Know Your Options



The Centers for Medicare and Medicaid Services (CMS) has issued its final rule implementing payment reforms in the Medicare Access and CHIP Reauthorization Act of 2015 (MACRA). MACRA, which replaces the flawed sustainable growth rate (SGR) formula, establishes new quality reporting programs aimed at encouraging value-based care. APA is creating a number of resources—including a webinar series—to help you transition to the new programs and determine what options are best for you. learn more and read a related blog by APA CEO and Medical Director Saul Levin, M.D., M.P.A.
SAMHSA Launches Free App to Support MAT for Opioid Use Disorder



A new app from SAMHSA, known as MATx, supports practitioners who provide medication-assisted treatment (MAT), as well as those who plan to do so in the future. Features include information on treatment guidelines, information on the Drug Addiction Treatment Act of 2000 waiver process and patient limits, ICD-10 coding, and access to critical helplines and SAMHSA's treatment locators. Click here to download the app from the Apple or Google Play store.
Deadline Announced for Seeking Review of Potential Payment Penalties



The Centers for Medicare and Medicaid Services has posted information that physicians can consult to determine whether they will be subject to 2017 payment penalties associated with the Physician Quality Reporting System (PQRS) and the Value Modifier. Practices concerned about the findings in their report(s) have until November 30 to file for an informal review of their data. Read more.
Join Call on How to Report Across 2016 Medicare Quality Programs



Learn how to report quality measures during the 2016 program year to maximize your participation in the Medicare quality programs, including PQRS, Medicare Electronic Health Record Incentive Program, Value-Based Payment Modifier, and Medicare Shared Savings Program. Satisfactory reporters will avoid the 2018 PQRS negative payment adjustment, satisfy the clinical quality measure component of the EHR Incentive Program, and satisfy requirements for the Value Modifier to avoid the downward payment adjustment. The call will be held Tuesday, November 1, from 1:30 p.m. to 3 p.m. ET. Refer to the call detail page for more information.
Thinking About a Career Move? Check Out JobCentral



APA JobCentral is the career hub for psychiatry. View open positions, post a resume, or set up email job alerts. Visit jobcentral to view recently posted jobs, such as independent psychiatrists under contract in Santa Barbara, California, or adult or child psychiatrists with Holistic Psychiatry in Houston. Browse through hundreds of more job openings across the country and around the world.
Free CME Course for Members Only



Each month APA makes available a free CME course exclusive to members only through its Learning Center. October's selection is "Childhood Precursors of Borderline Personality Disorder (BPD): Why Are Childhood Precursors Important?" This course summarizes the latest research on the childhood precursors of BPD and identifies the complex relationship between childhood adversity and BPD. Register here.
New 100% Club Benefits for Residency Programs



It's not too late to join apa's 100% club. The 100% Club promotes a collaborative community of training programs throughout the United States and Canada. This year's benefits provide more day-to-day value; check out the new new 2016-2017 benefits. Residents may complete the membership application and pay their dues online. If you're interested in institutional billing for your residents, contact membership@psych.org. The first year of APA national dues is free! Want to know how close your program is to reaching 100% Club status? Email cvanwagner@psych.org. learn more.
INTEGRATED CARE: WHAT IT MEANS TO YOU
Publications From American Psychiatric Association Publishing

Psychiatric News
Collaborative Care for Youth: Statewide Success Stories



In some communities the wait to see a child psychiatrist can be up to 12 months, if one is available at all. This often leaves primary care providers as the sole mental health prescriber for a child. In a recent Psychiatric News column, Robert Hilt, M.D., the associate medical director of Behavioral Health Consultative and Community-Based Programs at Seattle Children's Hospital, describes several collaborative care initiatives in the state of Washington that are helping to connect primary care providers with child psychiatrists. Read more.


Psychiatric Services
Collaborative Care Found to Reduce Postpartum Depression Risk Among Socioeconomically Disadvantaged Women



Depressed women who experience an adverse birth event, such as preterm delivery, are at risk of even more severe postpartum depression. In this study of Medicaid-enrolled women, a collaborative care intervention called MOMCare mitigated this risk and reduced postpartum symptoms. In MOMCare, a depression care specialist on the obstetric team provides brief interpersonal psychotherapy, pharmacotherapy, or both, along with help resolving practical, psychological, and cultural barriers to care. Read more.
FOR RESIDENTS AND FELLOWS
New Courses Added to SET for Success



The supplemental education and training (set) program helps residents and fellows build knowledge around the six ACGME core competencies and Psychiatry Milestones and learn about the business of medicine. Check out 60+ courses, FREE to residents and fellows!

MOST VIEWED ARTICLES IN
PSYCHIATRIC NEWS LAST WEEK
Important Changes in DSM-5 to Become Effective October 1
Candidates Reveal Positions on Mental Health
How to Document Psychotherapy Sessions
Military Expands Access to MH Care Through TRICARE
Neuroscientists Propose New Model for Understanding Fear, Anxiety
CURRENT ISSUE OF
PSYCHIATRIC NEWS
Are CSF Metabolic Abnormalities Linked to Refractory Depression?
Study of 9/11 Responders Continues to Unveil New Information on PTSD

Ruling in California Lawsuit Could Boost Access to Care
NYC First Lady Describes Ambitious Plan to Improve City's Mental Health Care
Why Psychotherapy Exposure is Relevant for Medical Students

American Psychiatric Association Publishing
Book of the Week


What Your Patients Need to Know About Psychiatric Medications, Third Edition

Robert H. Chew, Pharm.D., Robert E. Hales, M.D., M.B.A., and Stuart C. Yudofsky, M.D.

>>description, contents, and reviews

>>order the book

Job Hunting Made Easy: Here's Help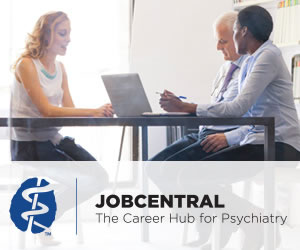 Click here for current job opportunities with APA JobCentral. Search the site for available positions, post your resume, and set up job alerts.
Check out the latest issues of
APA's major periodicals.

Psychiatric Services

Patients With Untreated Anxiety Commonly Seek ED Care
Nationwide, nearly 1% of visits to emergency departments (EDs) were for anxiety, mostly by people seeking treatment for the first time. This is a sign that the diagnosis of anxiety is being missed or inadequately treated in primary care settings.

SSA Can Do More to Promote Self-Management of Benefits
In a recent report, the Social Security Administration missed an opportunity to help beneficiaries avoid the use of representative payees by failing to promote financial products that help people with low incomes optimize their financial management.

Patient Preferences for Treatment of OCD
An online survey of adults with severe obsessive-compulsive disorder (OCD) revealed a slight preference for psychotherapy versus serotonin reuptake inhibitors (SRIs) as a first-line treatment but a distinct aversion to using antipsychotics rather than psychotherapy to augment SRIs.


American Journal of Psychiatry




A Longitudinal Study of Adjustment Disorder After Trauma Exposure


Injury survivors with adjustment disorder three months after hospitalization reported better outcomes than those with other psychiatric disorders. The majority of patients with adjustment disorder at 12 months did not have the diagnosis at three months. PTSD symptoms were common.



The Epidemiology of First-Episode Psychosis in Early Intervention Services




Researchers characterized the epidemiology of first-episode psychoses in rural or urban settings in England. They found that the incidence of first-episode psychosis was 34 cases per 100,000 person-years and that rates were similar for men and women but were higher for younger people, ethnic minorities, lower socioeconomic status, and more urban or more deprived communities.





Reward Response in Major Depressive Disorder




Research implicates both perturbed dopamine function and perturbed reward processing in major depressive disorder. The authors compared the effects of placebo and amisulpride, which impacts dopamine activity, on reward function in patients with depression and in healthy control subjects.







>>subscribe to blog rss
>>subscribe to blog via email