Dissociative Disorders



The questions below are from DSM-5 Self-Exam Questions: Test Questions for the Diagnostic Criteria, which may be preordered here from American Psychiatric Publishing. The answers and rationales are posted here.

1. Dissociative disorders involve disruptions or discontinuity in the functioning and integration of several psychological capacities. Choose the psychological functionality that is NOT involved in dissociative disorders.

a) memory
b) consciousness
c) perception
d) delusional beliefs
e) emotional responses

2. Which of the following statements correctly identifies important clinical aspects and associated symptoms of depersonalization/derealization disorder, as it is now described in DSM-5?

a) Half of all adults have experienced depersonalization and/or derealization
b) Women are 1.5 times more likely to develop depersonalization/derealization disorder than men
c) Most common onset of the disorder is between the ages of 25 and 35
d) Suicide thoughts and behaviors are rare compared with other psychiatric diagnoses
e) The most common childhood traumatic experiences in persons with depersonalization/derealization disorder are physical and sexual abuse

3. Choose the one statement that accurately identifies a change in dissociative fugue from DSM-IV-TR to DSM-5.

a) In DSM-5 but not in DSM-IV-TR, a fugue event is diagnosed as dissociative identity disorder, if it takes place in conjunction with the symptoms of that disorder
b) In DSM-5 but not in DSM-IV-TR, a fugue event secondary to temporal lobe epilepsy can be diagnosed as dissociative fugue
c) In DSM-5 but not in DSM-IV-TR, fugue states are diagnosed only as a specifier of dissociative amnesia (that is, dissociative amnesia with dissociative fugue)
d) DSM-5 but not DSM-IV-TR recognizes that fugue states are more common in dissociative amnesia than in dissociative identity disorder
e) In DSM-5 but not in DSM-IV-TR, fugue states are seen primarily as pathology of identity continuity

>>IN THE NEWS

Enroll in APA Legal Plan by January 1 to Receive Discount



As a benefit to members, APA has entered into an agreement with Anne Marie "Nancy" Wheeler, J.D., to offer confidential "triage" consultation to APA members at a preferred rate. Through the plan, members can obtain practice-related legal consultation on managed care contracts, subpoenas, malpractice, risk management, and third-party reimbursement. Wheeler will also provide names of local counsel when members' issues require representation or an opinion based on their state's law.

Members who enroll by January 1 may deduct $25 from the fee. Click here for plan contract and pricing details. (This service is not available to residents of North Carolina.)

APA Members Urged to Sign Up for Webinar on Relationships With Industry



A one-hour complimentary webinar on physicians' interactions with industry will be held Wednesday, December 18, at 11 a.m. EST. Citing the importance of this topic for psychiatrists, Saul Levin, M.D., M.P.A., CEO and medical director of APA, is urging APA members to sign up for the webinar.

The webinar is being sponsored by the Council of Medical Specialty Societies (CMSS), which played a major role in drafting the payment transparency law. Among the speakers will be Norm Kahn, M.D., executive director of CMSS, and Julie Clements, J.D., APA's deputy director for regulatory affairs.

Dial-in information for the webinar is available in the U.S. at (800) 882-3610 and in Canada at (866) 605-3851. The passcode is 4495084. Click here to register.

Final Rule for the 2014 Medicare Physician Fee Schedule Released



The federal government last week released a final rule for the 2014 Medicare physician fee schedule, with a staggering 24 percent across-the-board cut for physicians beginning January 1.

The payment cut will go into effect unless Congress reverses it before the Christmas recess—as it has every year for nearly a decade—or else acts on pending legislation to eliminate the much-derided sustainable growth rate component of the payment formula. At press time, that legislation is still the subject of intense negotiation (see psychiatric news).

Staff of APA's Office of Healthcare Systems and Financing are analyzing the final rule and will release a public comment in coming days.

New Work Values Could Increase Medicare Payment for Psychiatric Codes



The federal Centers for Medicare and Medicaid Services (CMS) has accepted work values for a number of psychiatric codes (90791/92 and the 908XX codes) that will result in increased Medicare payment for psychiatrists using those codes. The work values, which are recommended by the AMA's Relative Value Update Committee (RUC) are part of a complex payment formula that includes practice expense and other variables to derive a fee for every code used by physicians. To find out more, click here.

Minority Fellowships Program Invites Applicants



Psychiatry residents are invited to apply for APA's Minority Fellowships Program. The fellowships provide educational opportunities, not only to minority residents, but to any resident interested in providing quality and effective service to minorities and the underserved.

Learn more about the APA/SAMHSA, SAMHSA Substance Abuse, and Diversity Leadership fellows on the APA fellowship page or contact Marilyn King at (703) 907-8653 or mking@psych.org. The application deadline is Jan. 30.

Participate in New Clinical eFOCUS



Clinical eFOCUS is a continuation of the FOCUS program of lifelong learning and is approved by ABPN as a self-assessment activity for 2 AMA PRA Category 1 Credits.

This eFOCUS exercise provides an opportunity for you to share your opinion and see how others approach the same case. Given your knowledge of the topic and the points made in the vignette, which treatment approach would you choose? Click here to take the survey.


>>INTEGRATED CARE: WHAT IT MEANS TO YOU

Managing Multiple Chronic Conditions Across the Medical Spectrum



You are invited to participate in a webinar on Thursday, December 5, on national-level efforts to address the challenge of more Americans living with multiple chronic conditions (MCC). The Department of Health and Human Services unveiled its Strategic Framework on Multiple Chronic Conditions in December 2010 to provide a roadmap for the public and private sectors to collaborate on efforts to optimize health and quality of life for persons with MCC. The webinar, sponsored by the SAMHSA-HRSA Center for Integrated Health Solutions, will be held from 3 p.m. to 4 p.m. To participate, send an RSVP to mcc@hhs.gov.

Publications From American Psychiatric Publishing

Focus: The Journal of Lifelong Learning in Psychiatry
The fall issue is devoted to the topic "Psychosomatic Medicine and Integrated Care." According to guest editor Deane Wolcott, M.D., this issue provides a selected overview of the vital contributions that psychiatry and psychosomatic medicine make to U.S. health care delivery.

Individual copies of the issue may be purchased by calling American Psychiatric Publishing's Customer Service Department at (800) 368-5777.

Psychiatric Services
Integrated Illness Management and Recovery Found Effective
A study of self-management education for psychiatric and general medical illness among older adults at two New Hampshire mental health centers suggests that a focus on overall wellness may counteract the devastating health effects of comorbid mental and general medical disorders. To read the study, click here.

Psychiatric News
Three Decades of Working in Integrated Care
Wayne Katon, M.D., who has been called the "grandfather of collaborative care," shares his perspective on 30 years of work in the field. A recent aspect of his work was the development and testing of a collaborative care approach to improving disease control of both depression and physical illness for patients with comorbid depression and poorly controlled diabetes and/or heart disease. To read more about Katon's work, click here.

>>JOURNAL CLUB

Participate in AJP's Journal Club

The goal of the Journal Club is to facilitate the study of a major article in an APA scholarly journal and discuss it with other psychiatrists. A series of questions following a description of the article will help readers focus on its main points.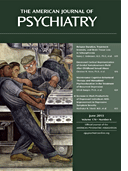 psychiatric clearance for patients started on interferon-alpha-based therapies

francis e. lotrich, m.d., ph.d.
american journal of psychiatry, june 2013

Recognize the range of neuropsychiatric symptoms that may occur during interferon treatment and how antidepressant management may be affected.

Discussion questions:

• What should be included in psychiatric education of the patient prior to starting interferon-alpha therapy?

• How does the concurrent use of protease inhibitors affect blood levels of medications that are metabolized by CYP 3A4?

• Vulnerability to developing depression during interferon-alpha therapy is associated with what other symptoms?

Earn CME credits by reading articles in the American Journal of Psychiatry. Subscribe to the ajp continuing medical education course program. ajpclinical.com brings you the quick and easy "Clinical Guidance" synopses of new articles published in the journal, optimized for mobile viewing on the go.


>>FOR RESIDENTS

November Residents' Journal Now Available



The November issue of the residents' journal focuses on adolescent psychiatry. The articles present data on the risk factors, assessment tools, and intervention models for substance use disorders in adolescents and discuss how mindfulness-based approaches can be beneficial in treating adolescents with anxiety and mood disorders, autism spectrum disorder, learning disabilities, and conduct disorder. It also provides information and recommendations on how psychiatrists can provide consultation to schools after youths are exposed to a traumatic event.


Advertisement



>>MOST VIEWED ARTICLES IN
    PSYCHIATRIC NEWS LAST WEEK

>>DSM-5 Updates Depressive, Anxiety, and OCD Criteria

>>ICD Codes for Some DSM-5 Diagnoses Updated

>>DSM-5 Provides New Take on Neurodevelopment Disorders

>>DSM-5 Fine-Tunes Diagnostic Criteria for Psychosis, Bipolar Disorders

>>New Gender Dysphoria Criteria Replace GID


>>CURRENT ISSUE OF PSYCHIATRIC NEWS

>>Final Rule Clarifies Regulations for Parity Law

>>Genome Studies Open Window on Schizophrenia Etiology

>>AMA Acts on Medicare Payment as Congress Considers Legislation

>>Targeting Specific Factors Might Improve Bipolar Disorder Outcomes

>>Med Check

Advertisement



>>BOOKS

American Psychiatric Publishing
Item of the Week

DSM-5 Diagnostic Criteria Mobile App
Now Available in Spanish!

>>apple itunes
>>google play


>>APA PERIODICALS

Check out the latest issues of
APA's major periodicals.

American Journal of Psychiatry
The December issue of AJP introduces the DSM-5 diagnosis of somatic symptom disorder, revisits neuropsychiatric events in people taking varenicline to quit smoking, and describes a program to encourage paid employment for SSDI recipients with mental illness. Also, the Editors of AJP select their favorite articles of the year.


Psychiatric Services
>>Job Seeking Linked to Definition of Work Readiness
Clients of supported-employment programs were more likely to actively seek employment if their case managers defined work readiness broadly. Case managers who emphasized hygiene, social skills, and use of alcohol and drugs appeared to undermine job seeking, the authors said.

>>Psychiatric Symptoms, Not Label, Feed Stigma of Children
Parents demonstrated significant stereotyping, prejudice, and social distance toward descriptions of children with symptoms of depression and ADHD, even when the description contained no mention of a diagnostic label. Adding a diagnostic label contributed marginally to worsening the stigma, the study indicated.

>>By Identifying Off-Label Uses, Medicaid Claims May Become a Policy Tool
A comparison of claims data and electronic medical records for nearly 800 Ohio Medicaid recipients found that the Medicaid claims were a reliable indicator of off-label use of second-generation antipsychotics. The data may help identify improper off-label prescribing without disrupting treatment for severe mental illnesses, the authors suggested.

subscribe to blog rss
>>subscribe to blog via email