Have You Registered to Review Your 'Sunshine Act' Data?



August 27 is the deadline to complete a two-phase registration process necessary to review data on payments or other transfers of value from pharmaceutical and medical device companies and dispute any errors with the Centers for Medicare and Medicaid Services (CMS). The collection and reporting of these data are required under the Physician Payment Sunshine Act (PPSA), part of the Affordable Care Act. To make registration and review of data as easy as possible for its members, APA has posted a number of resources on its website that it will continue to update on a regular basis. Registration is voluntary, but it is required to review the data and dispute any inaccuracies. While the initial review-and-dispute period ends August 27, identity verification can take some time, so CMS is recommending that registration be completed as soon as possible. Physicians still have until December 31 to dispute 2013 data, but disputes will not be flagged in the public database until 2015. If you haven't acted yet, do so now.
Early-Bird Registration Ends Tomorrow for 66th Institute on Psychiatric Services



This year's theme, "Integrating Science and Care in a New Era of Population Health," focuses on the changes in service delivery and everyday practice, scientific advances, and the ways in which society itself has shaped psychiatry's work. The institute, which is being held in San Francisco October 30-November 2, will feature more than 100 education sessions. Register by July 24 to receive the early-bird rate. To obtain more information and to register, click here.
Help Determine Tomorrow's APA Leaders



Who do you think should lead APA into its next phase of planning for the future? Now's the time to speak up—APA is seeking nominations for the national offices of president-elect, secretary, early career psychiatrist (ECP) trustee-at-large, and resident-fellow member trustee-elect. Members of Area 1, Area 4, and Area 7 are also invited to forward suggestions for their respective Area trustees. Please e-mail your nominations and letters of recommendation to election@psych.org. The deadline for nominations is October 1.
New APA Online Courses Now Available



Two new online courses are now available on the APA Education website. "transitioning to dsm-5 and icd-10-cm" will directly address this knowledge gap by providing training for clinicians to better understand the coding changes in DSM-5; how DSM-5's approach differs from that in DSM-IV, the rationale behind the revisions; and specific clinical implications. "pawn to king four, an apa efocus clinical vignette: understanding the evidence" provides an opportunity for you to share your opinion and see how others approach the same case. Given your knowledge of the topic and the points made in the vignette, which treatment approach would you choose? For additional information and a full listing of APA online courses available, click here.
Your Voice Still Needed to Show Support for Bills on VA Psychiatric Workforce!



Your voice is still needed! APA is asking psychiatrists to urge their House and Senate members to cosponsor bills HR 4234/S 2425, the bipartisan Ensuring Veterans Resiliency Act, which seek to secure a stronger and more stable psychiatric workforce in the Department of Veterans Affairs. To contact your members of Congress, start here on APA's website. If you have already contacted your member of Congress, thank you!

For more details in Psychiatric News on the legislation, see "bill seeks to boost number of psychiatrists in va."
2014-2015 APA/SAMHSA Minority Fellows Announced



The APA/SAMHSA Selection Committee for the Minority Fellowships is pleased to announce the names of the 36 new psychiatry residents selected to participate in one of the APA Minority Fellowships and the 29 continuing fellows. The minority fellowships program endeavors to eliminate racial and ethnic disparities in mental health and substance abuse care by providing specialized training to psychiatry residents and medical students interested in serving minority communities. For a listing of the fellows' names, click here.
Deadline Extended for APA Spurlock Congressional Fellowship Applications



The application submission deadline for the 2015 APA Jeanne Spurlock Congressional Fellowship has been extended to August 15. The Spurlock Fellowship is an opportunity to represent the profession of psychiatry on Capitol Hill and work with federal policymakers to shape public policy. The 10-month fellowship will begin January 1, 2015, with candidate selection earlier in the fall. A summary of the fellowship details, including information on past Congressional Fellows and their experiences on the Hill, is posted here. Applicants must be APA members and U.S. citizens or permanent residents. Applications, in the form of a letter, three letters of recommendation, and a CV, should be emailed to Marilyn King or mailed to APA Division of Diversity and Health Equity, 1000 Wilson Boulevard, Suite 1825, Arlington, Va. 22209.
Register for Webinar on Prescription Drug Abuse and the Emergence of Hepatitis C



Prescription drug abuse has emerged as a public-health concern in the past decade, especially in rural areas of the United States. The webinar, "Prescription Drug Abuse and the Emergence of Hepatitis C in Rural Appalachia," will describe trends in prescription drug abuse and the relationship between injection of prescription opioids and HCV transmission over time (2008-2014). Longitudinal individual data and social-network-level data will be presented, as will prevalence and incidence rates for HCV, HIV, and HSV-2. Register here.
Diversity Mental Health Month: Why It Is Needed and How It Came to Be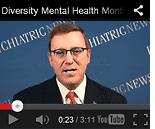 July is the first APA Diversity Mental Health Month. The concept for Diversity Mental Health Month came from participants in APA's Minority Fellowship program. Read here and learn how their idea led to APA's bringing national attention to the mental health needs of diverse populations. Also, watch a video of APA Medical Director and CEO Saul Levin, M.D., M.P.A., as he shares information and guidance on how to improve the care of these underserved populations.
Apply to Become an APA Fellow—It's Now Easier!



Are you ready to take the next step in your professional career? Members who pursue fellow status perceive it as one of the first steps to enhancement of their professional credentials. Members who apply and are approved this year for fellow status will be invited to participate in the Convocation of Distinguished Fellows during APA's 2015 annual meeting in Toronto. The application deadline for international members is August 1; click here for more information and an application. The deadline for U.S. and Canadian members is September 1; for more information and an application, click here.

>>INTEGRATED CARE: WHAT IT MEANS TO YOU

Publications From American Psychiatric Publishing

Psychiatric News
Florida Brings Integrated Care to Medicaid Beneficiaries



In June, Florida became the first state to offer an integrative Medicaid health plan designed for people with chronic and severe mental illness. It is hoped that this innovative new program will lead to improved outcomes for Medicaid beneficiaries and lower costs for their treatment.
Read more.

For other Psychiatric News articles on integrated care, click here.
Psychiatric Services
Residency Programs Need to Prepare Trainees for New Delivery Systems

Early career psychiatrists Andres Barkil-Oteo, M.D., M.Sc. and Yael Holoshitz, M.D., look back at their residency training and wish that they had learned more about systems of care—such as accountable care organizations and integrated care models—and the regulations and incentives that drive the evolving models of health care. Also, they recommend that residency programs embrace collaboration with community psychiatrists. Read

more

.
Have Your Residency Training Program Join the Exclusive APA 100% Club



The APA 100% club was established to encourage residents throughout the United States and Canada to join APA and to do so with other trainees in their programs. Visit the APA website for eligibility requirements and benefits for each level. Contact Neila Ariasaif in Membership if your program is interested in achieving 100% status for 2014-2015 and joining the ranks of this exclusive club!
Share Your Opinion



Lara Cox, M.D., is APA's resident fellow member (RFM) trustee. Here is a message from her:

As your RFM trustee, I oversee the Residents' Forum in Psychiatric News and would like to invite you to participate in this column. Columns reflect the perspective or opinions of RFMs on matters that are important to us as trainees and beginning clinicians and give you an opportunity to get published early in your career. The length of the column should be 500-600 words. Click on the following titles to check out the column's format and see what RFMs have written recently.
If you have any questions or would like to send a submission, please contact me at larajcox.apa@gmail.com. Also, I look forward to hearing from you about any RFM issues in general. Thank you!
Participate in AJP's Journal Club

The goal of the Journal Club is to facilitate the study of a major article in an APA scholarly journal and discuss it with other psychiatrists. A series of questions following a description of the article will help readers focus on its main points.




>>Preserved Working Memory and Altered Brain Activation in Persons at Risk for Psychosis


Siti N. Yaakub, B.Eng.(Hons.), et al. (November 2013)

Alterations observed in task-related functional imaging in individuals at risk of psychosis involve several brain networks.

Discussion Questions:

| | |
| --- | --- |
| 1. | Which brain regions supporting working memory exhibited activation differences reflecting reduced efficiency in this study? |
| | |
| 2. | What part of the frontal lobe facilitates switching between the task-positive central network and task-negative default mode network? |
| | |
| 3. | How would you best describe task-related deactivation in the default-mode network? |


Advertisement



>>MOST VIEWED ARTICLES IN
PSYCHIATRIC NEWS LAST WEEK

>>ICD Codes for Some DSM-5 Diagnoses Updated

>>Link Found Between Glutamate, Adolescent Bipolar Disorder

>>AMA Votes on Transgender Rights, Capital Punishment

>>Cytokine Antagonists May Help Some Depression Patients

>>DSM-5 Updates Depressive, Anxiety, and OCD Criteria

>>CURRENT ISSUE OF PSYCHIATRIC NEWS

>>AMA IPS Will Help Clinicians Adapt to Changes in Mental Health Care

>>Antidepressant May Have Role in Treating Menopause Symptoms

>>Are FDA Antidepressant Warnings Linked to Rise in Youth Suicides?

>>Summit Conference Addresses MH Issues in Troubled City

>>Pentagon, VA Lack Data to Assess PTSD Care Systems

Advertisement

>>BOOKS

American Psychiatric Publishing
Book of the Week

DSM-5 Diagnostic Criteria Mobile App

>>description and contents

>>download the app

>>APA JOB CENTRAL

Job Hunting Made Easy: Here's Help



For current job opportunities from the job board at APA Job Central, click here. In addition to searching the site for available positions, APA members may post their resume, set up email job alerts, and access a "job seeker" account.

>>APA PERIODICALS

Check out the latest issues of
APA's major periodicals.

Psychiatric Services

>>Medicaid Claims Yield Clinical Flags
Recent Medicaid claims are a useful tool for real-time treatment planning, allowing clinicians to identify patients at higher risk of rehospitalization and link them with mobile outreach and assertive community treatment. Claims for previous hospitalizations and other "clinical flags" were strongly predictive of rehospitalization.
>>A Mandate in Michigan: Generics Only
A large Michigan county facing compelling economic pressures mandated generic use of psychotropic medication for patients covered by the mental health safety net. This month's Economic Grand Rounds examines monthly pharmacy expenditures and rate of hospitalization before and after the change.
>>Hospitalizations of Children a Test of ACA Performance
Children with mental illnesses are more likely than other children to experience hospitalizations that could have been avoided by effective outpatient care. Reducing so-called ambulatory care–sensitive hospitalizations should be a performance metric for evaluating the Affordable Care Act.
>>subscribe to blog rss
>>subscribe to blog via email