Applications Invited for APA 2013 Achievement Awards

APA's Psychiatric Services Achievement Award Committee is soliciting applications for the 2013 Achievement Awards competition. Innovative programs for people with mental illness or disability that have been in operation for two or more years, have overcome obstacles, and can serve as models for other programs are urged to apply. Up to four awards totaling $10,000 may be presented at the 2013 Institute on Psychiatric Services. The deadline for applications has been extended to June 3. Information about the awards and the online application can be found

here

. For questions, contact Samantha Hawkins at (703) 907-8612.


>>ANNUAL MEETING NEWS

Symposium to Explore Why Employees Miss Work Due to Mental Issues



APA leaders, along with employers DuPont and JPMorgan Chase, will explore why more employees are absent from work because of stress and anxiety than because of physical illness or injury. They will also discuss effective psychiatric treatments and the impact of stress on the entire person, both physiologically and psychologically at the annual meeting symposium: "Return to Work: the Most Underutilized 'Pill' in the Psychiatrist's Formulary" on May 22 from 2 p.m. to 5 p.m. in room 306 at the Moscone Convention Center.

Last Chance to Complete Annual Meeting Self-Assessment and Earn Credit



The APA Annual Meeting Self-Assessment in Psychiatry is designed to help psychiatrists assess their level of knowledge regarding current psychiatric practice and clinical advances in the field. The exam tests areas of psychiatric practice covered in the ABPN content outline for the recertification exam and includes material related to APA Practice Guidelines and the core competencies of medical knowledge, patient care, interpersonal communication skills, systems-based practice, and professionalism. After completing 100 self-assessment questions prior to the meeting, a psychiatrist will have feedback about areas of strength and weakness in his or her medical knowledge and can create an individualized learning program of sessions to attend at the annual meeting.

Participants are able to earn up to 8 hours of AMA/PRA Category 1 Credit and fulfill a self-assessment component of Maintenance of Certification. To learn more, please visit the self-assessment web site. Annual meeting registrants have been auto-enrolled and notified by email.

Events Highlight Intersection of Work, Mental Health, and Cultural Diversity



APA's Office of Minority and National Affairs and the American Psychiatric Foundation's Partnership for Workplace Mental Health are teaming up to facilitate two events at APA's 2013 annual meeting focused on the intersection of work, mental health, and race and culture.

The symposium "Work, Mental Health, and Cultural Diversity: A Dynamic Triad" will be held Sunday, May 19, from 8 a.m. to 11 a.m. The symposium will look at how discrimination in the workplace—be it racial, ethnic, cultural, or sexual orientation—affects mental health and how its sequelae can be addressed in clinical practice. The symposium will also focus on the important role of employment in recovery. Speakers include Price Cobbs, M.D., Keris Myrick, M.B.A., M.S., Donald Williams, M.D., and Amani Nuru-Jeter, Ph.D., M.P.H.

A second OMNA on Tour community event, "Mental Health Matters: Making Culture Work," will address how to help patients succeed at work in the face of overt discrimination or subtle micro-aggressions. This interactive forum, which will be held Friday, May 17, from 8 a.m. to 11:30 a.m., will address the effects of such discrimination and the disconnect between corporate policies related to diversity and the reality of everyday life at work.

NIDA to Host Addiction Performance Project at Annual Meeting



The National Institute on Drug Abuse will be hosting the Addiction Performance Project, a CME and CE program to help break down the stigma associated with addiction and promote a dialogue that fosters compassion, cooperation, and understanding, on Sunday, May 19, at the Moscone Convention Center.

Each performance begins with a dramatic reading of Act III of Eugene O'Neill's "Long Day's Journey Into Night" by award-winning professional actors. The reading is followed by a brief expert panel reaction and facilitated audience discussion. Former member of Congress Patrick Kennedy will join the session as a guest panelist, and the lead actress will be Mare Winningham. Click here for more information.

Download NewAnnual Meeting App



The APA annual meeting mobile app is now available. Get 24-hour access to program and meeting information, an agenda builder, maps, networking, and more. Downloading the app is easy. You can scan the QR code at left or follow these instructions:

For iPhone, iPod Touch, and iPad users:
From your handheld device, go to the iTunes App Store and search the association's full name or acronym. Click on the "free" button, which will take you to the install screen.

For BlackBerry, Android, and all other Web-enabled smartphones and tablets:
Point your device's Web browser to http://app.core-apps.com/tristar_apa13. On this Web-based mobile site, you will be directed to the proper download version for your device type.

Other Annual Meeting News



The APA Caucus of VA Psychiatrists will meet on Tuesday, May 21, from 1 p.m. to 3 p.m. in the Yerba Buena Room 13-15, Lower B2 Level of the San Francisco Marriott Marquis. To participate by phone, call (866) 951-1151 and enter conference room number 6969456#.

• Visit the FOCUS Booth #2133 or the APP Bookstore during the annual meeting and subscribe to FOCUS to receive $50 off the regular subscription price. Subscribers can earn up to 44 + AMA PRA Category 1 Credits or more with a one-year subscription.

• Register for a pre-conference event on clinical updates in primary care psychiatry. Participants will learn core components of doing an initial psychiatric assessment in the busy primary care setting, effective treatment strategies addressing the most common mental health conditions in the primary care setting, how to approach the "difficult patient" in the primary care setting, and the most recent developments in psychopharmacology and brief psychotherapies.

The event is Friday, May 17, from 7:45 a.m. to 5 p.m. at the Moscone Convention Center. To register, click here and use the promo code PCP.

• The American Psychiatric Publishing Bookstore and Publishers' Book Fair exhibits will remain open on Saturday, May 18, until 5 p.m. to give you an opportunity to obtain your copy of the newly released DSM-5, along with titles from the other publishers on the first day of the meeting. A special DSM-5 event will be held from 4 p.m. to 5 p.m. Come meet the DSM-5 Task Force chairs and get a free gift with purchase of DSM-5.

• Get updates on meetings and additional information by following @apapsychiatric on Twitter and using the hashtag at #apaam13.

>>IN THE NEWS

Don't Let Your Membership Expire!



The deadline for paying current year APA membership dues is June 30. Membership dues must be paid by June 30 or your membership will automatically expire on that date (unless members are enrolled in the APA Scheduled Payment Plan). Renew your dues online or enroll in the scheduled payment plan to pay your membership dues by credit card in monthly, quarterly, biannual, or annual installments — with no interest or service fee.

SAMHSA Unveils New National PSA Campaign



You may want to inform your patients who are parents about a new national public-service announcement campaign that empowers parents to talk to young children as early as age 9 about the dangers of underage drinking today. The campaign, titled "Talk. They Hear You," is sponsored by the Substance Abuse and Mental Health Services Administration (SAMHSA), was launched on Monday.

The campaign kickoff began SAMHSA's 2013 National Prevention Week—an annual health observance to increase awareness of, and action around, substance abuse and mental health issues. To learn more about this campaign, click here.

Call for Simon Bolivar Award Nominations



Nominations are now being accepted for the 2014 APA Simon Bolivar Award, which honors a prominent advocate for Hispanics and is designed to sensitize the APA membership to the mental health problems and goals of Hispanics. Nominees must be of Hispanic descent. The deadline for nominations is June 1. For more information, click here or contact Alison Bondurant at abondurant@psych.org or at (703) 907-8639.

APA JobCentral to Host Online Job Fair



APA JobCentral is making it even easier for employers and candidates to connect through its first live Virtual Career Fair event. The Virtual Career Fair connects job-seekers with hiring organizations, in a live, one-on-one online chat setting. Job-seekers register for free, whether or not they are APA members. Once registered, they may

• upload their resumes and review information about open positions prior to the fair,

• chat live and one-on-one with recruiters at each virtual booth during the fair, and

• build their networks by continuing their conversations with recruiters after the fair.

The event will take place on Tuesday, June 18, from noon to 3 p.m. EST. To register, visit the APA JobCentral Web site here.


>>JOURNAL CLUB

Participate in AJP's Journal Club

The goal of the Journal Club is to facilitate the study of a major article in an APA scholarly journal and discuss it with other psychiatrists. A series of questions following a description of the article will help readers focus on its main points.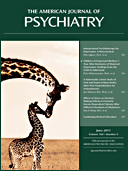 misdiagnosed postpartum psychosis revealing a late-onset urea cycle disorder

thomas fassier, m.d., nathalie guffon, m.d., cécile acquaviva, pharm.d., thierry d'amato, m.d., ph.d., denis vital durand, m.d., philippe domenech
american journal of psychiatry, june 2011

The typical presentation of postpartum psychosis is a complex mixture of mood disorders, psychotic symptoms, and confusion. However, the postpartum period is also associated with an elevated risk for numerous medical conditions that may be misdiagnosed as postpartum psychosis.

Discussion questions:

• Which psychiatric symptoms do not fit with the typical postpartum psychosis and might raise the hypothesis of a differential diagnosis?

• While treating a postpartum psychosis patient, which tests would you order to assess the hypothesis of a late-onset urea cycle disorder?

• In patients with late-onset urea cycle disorders, can valproate be used to control hyperammonemia-induced mood symptoms?

Earn CME credits by reading articles in the American Journal of Psychiatry. Subscribe to the ajp continuing medical education course program.


>>FOR RESIDENTS

Free Conference Aims to Help Veterans and Service Members



Psychiatry residents and medical students interested in psychiatry are invited to attend a free, full-day conference whose goal is to develop the next generation of mental health professionals to care for members of the military, veterans, and their families. The conference, which is being held Monday, June 3, at Columbia University in New York, is sponsored by Give an Hour in partnership with the American Psychiatric Foundation and other organizations. Give an Hour's primary mission is to link volunteer mental health professionals with military members, veterans, and their family who seek help with mental health issues. Those who cannot attend the conference may watch it live on the Internet.

To ensure your spot, register now; scroll down to the registration area. The conference will be live-streamed at this site as well. For more information, contact Dr. Kent Corso at kcorso@giveanhour.org.

>>WEEKLY POLL

If you had to do it all over again, would you still choose a career in psychiatry?



>>LAST WEEK'S POLL

Do you spend more than 40 hours a week seeing patients?

Advertisement



>>MOST VIEWED ARTICLES IN
    PSYCHIATRIC NEWS LAST WEEK

>>DSM-5 Goes Mobile

>>United Nations Benefits From Psychiatrist's Expertise

>>DSM Section Contains Alternative Model for Evaluation of PD

>>DSM-5 Updates Depressive, Anxiety, and OCD Criteria

>>DSM to Distinguish Paraphilias From Paraphilic Disorders


>>CURRENT ISSUE OF PSYCHIATRIC NEWS

>>Pediatricians Say Same-Sex Couples Should Have Right to Marry, Adopt

>>Obama Calls for Major Initiative to Advance Brain Research

>>Resident Honors Department Chair Who Led Through Katrina

>>Infants' Eyes May Reveal Clue to Autism Risk

>>Screening of Postpartum Women Shows High Rates of Depression

Advertisement



>>BOOKS

American Psychiatric Publishing
Book of the Week

APA members can pre-order this book at a discount.
Manual of Clinical Psychopharmacology for Nurses

Edited by Laura G. Leahy, M.S.N., P.M.H.-A.P.R.N., and Christian G. Kohler, M.D.

>>description, contents, and reviews
>>read a chapter
>>order the book


>>APA PERIODICALS

Check out the latest issues of
APA's major periodicals.

Journal of Neuropsychiatry & Clinical Neurosciences

>>Association of Major Depression With Sexual Dysfunction in Men
Severity of depression is clearly correlated with severity of sexual dysfunction; however, type of depression may make a difference as well.

Psychiatric Services

>>Canadians' Innovative Use of the Internet for Policy Development
In Canada, where health care is primarily a provincial responsibility, an innovative three-phase process was used to develop "Evergreen: A Child and Youth Mental Health Framework." Developers used new online technologies, such as Socialtext and Box.net, to encourage diverse public input and to hold costs down.

>>Perceived Mental Health Treatment Need and Substance Use Correlates Among Young Adults


The relationship between perceived need for mental health treatment, reasons for not receiving care, substance use, and race and gender among young adults was examined to identify barriers to mental health care.

>>A Difficult Neighborhood, a Test of Community Integration?


Crime rates, property values, and other community characteristics may affect the integration and participation of individuals with serious mental illness. A study of Philadelphia neighborhoods with high concentrations of persons with serious mental illness highlights the environmental challenges of living in the community.

subscribe to blog rss
>>subscribe to blog via email