Since Ken Kesey's novel and the film "One Flew Over the Cuckoo's Nest," there has been a major paradigmatic change in the U.S. mental health system—the deinstitutionalization of psychiatric hospitals. Although the community-based system has never been as robust as originally envisioned, improvement of psychiatric medications in large part helped in the transition. Read more.

Robert H. Chew, Pharm.D., is a psychiatric-pharmacist specialist in Sacramento, Calif. He is the co-editor of What Your Patients Need to Know About Psychiatric Medications, Third Edition, from APA Publishing. Members can purchase the book at a discount.



New Wave of Sunshine Act Data Now Available for Review



From April 1 to May 15, physicians can review and dispute data on payments or other transfers of value from pharmaceutical and medical device manufacturers that were reported to the Centers for Medicare and Medicaid Services (CMS) for 2016. All disputes must be resolved directly with manufacturers by May 30; they are responsible for reporting the corrected data to CMS. Public access to the 2016 payment data, as well as updates to data for 2013, 2014, and 2015, begins on June 30.

The collection and reporting of these data are required under the Physician Payment Sunshine Act (PPSA), part of the Affordable Care Act. If you plan to review your data, test your CMS enterprise portal (EIDM) log-in credentials beforehand. Accounts that have not been accessed recently are locked; if your account has been locked, see faqs for EIDM users. If you have not yet registered on the Open Payments portal, see the resources that APA has posted on its website.
Enjoy Scotland While Learning From World Psychiatric Experts



The Royal College of Psychiatrists is holding its annual meeting in Edinburgh, Scotland, from June 26 to 29 on the theme "Psychiatry Without Borders." Presentations will be made by world-renowned experts through 80+ educational sessions at one of the most prestigious mental health events in the world. A gala dinner will be hosted at the National Museum of Scotland, which houses Scotland's national collections. learn more and register today.
New FOCUS Section Offers Additional Opportunity to Share Your Research



Interested in submitting your research to the FOCUS: The Journal of Lifelong Learning in Psychiatry for a new section it is launching later this year? Detailed information about the section, call "Applied Armamentarium," is available in focus and psychiatric news.
March Course of the Month Now Available



APA's course of the month for march, "Detection and Prevention of Cognitive Decline," is now available to APA members at no cost in the APA Learning Center. The APA Learning Center offers 200+ activities, many of which are free or discounted for members. It's a great place to focus on specific topics, learn at your convenience, and meet MOC/MOL requirements. browse the wide range of offerings today.
What Do Farmers, Construction Workers, and Police Officers Have in Common?



Unfortunately, these individuals have higher rates of suicide than those in many other occupations. Workplace mental health programs can help. This month's "Care for Your Mind" blog discusses how employers have opportunities to help build a mentally healthier workforce and prevent suicides. Read more.
Don't Forget to Update Your Username, Password on APA Website



If you have not already done so, you will need to use a new username and password for logging into apa's website. The new log-in requires use of the email address you have on file with APA and a new password. You can reset your password by selecting "Forgot Password?" on the account login page or by calling APA customer service at (703) 907-7300.
Nora Volkow, M.D., to Interview ABC Anchor Elizabeth Vargas



Award-winning journalist Elizabeth Vargas will present the William C. Memorial Convocation Lecture on Monday evening, May 22. Afterward, she will be interviewed by Nora Volkow, M.D., director of the National Institute on Drug Abuse and a leading expert on the neuroscience of drug addiction. Last fall, Vargas published her memoir, Between Breaths: A Memoir of Panic and Addiction. The book details her struggles with anxiety and alcohol abuse and tells a powerful story of recovery and coping. The interview promises to give insight on both addiction as a human disease and the struggle to overcome it. read more
Advance Registration Rates Now in Effect!



Save on Annual Meeting fees by taking advantage of low advance registration rates and locking in your first-choice courses. Learn the latest about special sessions and events at the meeting and register today.
Tour Naval Medical Centers on Land and Sea in 'EduTour'



Sign up now to celebrate San Diego's naval heritage by visiting two major naval medical sites—one on land and the other on sea: the Naval Medical Center San Diego and USNS Mercy, a Navy hospital ship. USNS Mercy primarily operates in the Pacific and Indian oceans. Her latest disaster relief mission was in 2013, when she came to the aid of the Philippines and other nations in the aftermath of Typhoon Haiyan. To learn more about the EduTour, click here or email nina taylor.

If you have already registered for the meeting, just return to the registration area on APA's website and sign up for the tour. If you haven't registered yet, sign up when you fill out the meeting registration form.
Don't Get Dropped!



March 31 is the last day to pay your 2017 dues and continue your member benefits without interruption. As we work toward new member opportunities and initiatives, we look forward to your continued support. It's not too late! renew your membership today and keep building on the success we have already achieved together. Prefer to pay your dues over time? Sign up for the scheduled payment plan to make smaller payments monthly, quarterly, or biannually.
Student Loan Savings for APA Members, Friends, Family



credible makes it quick and easy for APA members,* friends, and family members to save on their student loans; you decide which federal and/or private loans to refinance. As a multi-lender marketplace that allows borrowers to receive competitive loan offers from its vetted lenders, Credible empowers consumers to take control of their student loans. Borrowers can fill out one form and then receive and compare personalized offers from numerous lenders and choose which best serves their individual needs. learn more about Credible and the $150 Visa gift card offer.

*Refinancing service is available only to U.S. citizens and permanent residents with a permanent address in the United States.
FOR RESIDENTS AND FELLOWS
'Bring Me the Real Doctor': Dealing with Patient Bias



In this month's Residents' Forum, Rana Elmaghraby, M.D., writes about the many kinds of discriminatory remarks that residents may encounter from patients. While residents are in training to understand their patients, they need to recognize how patients' biases impact residents' feelings of competency and sense of well-being. Read more.
AJP Residents' Journal



The March issue of the Residents' Journal includes a commentary on psychotherapy education in residency training, articles on ketamine and EKGs, and several case reports. Visit ajp's residents' journal.
Learn to Write Scholarly Papers



Residents, fellows, and medical students are invited to the American Journal of Psychiatry Residents' Journal workshop at APA's 2017 Annual Meeting. The workshop is titled "Writing a Scholarly Article" and will be chaired by Rachel Katz, M.D., the senior deputy editor of the Residents' Journal. Come by and meet her and other journal editors and staff. The workshop will be held Tuesday, May 23, 3:30 p.m.-5 p.m. in Room 28B, Upper Level, San Diego Convention Center. For further information, send an email to ajp@psych.org.
Annual Meeting to Offer Leadership Track for RFMs, ECPs



As residents transition into early career, few have any formal training in organizational issues, teaching, or leadership. An expanded track of sessions at APA's 2017 Annual Meeting aims to train and guide the participants to become future leaders in the field of psychiatry. Sessions are open to all residents and early career psychiatrists and may be especially helpful for those transitioning into a chief resident role. read more and register now.

MOST VIEWED ARTICLES IN
PSYCHIATRIC NEWS LAST WEEK
Motivational Interviewing for Clinical Practice: Just Do It
How to Diagnose and Treat Disruptive Mood Dysregulation Disorder
Modafinil May Help Improve Memory in Patients With Remitted Depression
Data Sound Alarm on Gay Teens' Heightened Suicide Risk
Letter to the Editor: Mood vs. Affect
CURRENT ISSUE OF
PSYCHIATRIC NEWS
New Initiative Targets Psychosocial Issues Related to Diabetes
Early End to Substance Use Linked to Better Outcome in First-Episode Psychosis

LAI Aripiprazole Found to Reduce Recurrence of Mood Episodes
Synthetic Oxytocin May Increase Risk of Postpartum Depression, Anxiety
Five-Year Study Suggests Abortion Does Not Lead to MH Problems

American Psychiatric Association Publishing
Book of the Week


Clinical Manual of Child and Adolescent Psychopharmacology, Third Edition

Edited by Molly McVoy, M.D., and Robert L. Findling, M.D., M.B.A.

>>description, contents, and reviews

>>order the book

Job Hunting Made Easy: Here's Help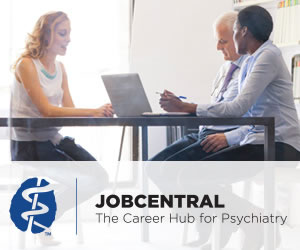 Click here for current job opportunities in APA JobCentral. Search the site for available positions, post your resume, and set up job alerts.
Check out the latest issues of
APA's major periodicals.

Psychiatric Services

Practice Interviewing Leads to Job Offers
Virtual-reality job interview training, possibly for as little as three to five sessions, significantly improved the odds of receiving a job offer among patients with serious mental disorders, an advantage that was fully mediated by improvements in interview performance.

Med Checks Commonly Involve Discussion of Costs
Almost 40% of medication management visits for patients with depression involved discussion of patients' out-of-pocket costs, particularly costs for psychotropic medications such as Cymbalta and Abilify.
>>subscribe to blog rss
>>subscribe to blog via email