Help determine the future of APA by selecting its next leaders. Learn about this year's slate of candidates, their priorities, and backgrounds at the apa elections page and watch video interviews of the candidates for president-elect and secretary. Voting closes on January 31. If you have not gotten your ballot yet, send an email to election@psych.org. Click here to vote now and be part of the process!

Editor Sought for Psychiatric Research and Clinical Practice Journal



APA is seeking an editor for a new journal that will publish content on psychiatric research, clinical practice, and systems of care. The editor will work with a small editorial advisory committee comprising the editors of APA journals as well as the publisher and key APA Publishing staff. Most of the work for this part-time position is done via the Internet and telephone. Candidates must be APA members who have a broad knowledge of research and practice. Information on how to apply for the position will be posted here. If you have additional questions, contact Rebecca Rinehart at rrinehart@psych.org.
Register for Annual Meeting Now at Low Early-Bird Rates
San Diego, May 20-24, 2017



Why put off till tomorrow what you can do today? Register now for your first-choice courses (they fill fast!) and lock down your housing preference while taking advantage of the low registration rates that are in effect only during the early-bird registration period. With 450+ educational sessions and courses, there is no better event to help you expand your knowledge, network, and meet certification and licensure requirements. Register here.
How Depression Impacts Our Country's Workforce



Whether or not a person feels comfortable on the job influences his or her overall well-being—and our society's economic health. For anyone suffering from depression, work-related productivity is a key indicator of health status, one we can't afford to ignore. In this month's Care for Your Mind Blog, Sagar V. Parikh, M.D., discusses ways to help with depression and its impact on the country's workforce. Read more.
Time to Review Your CMS Open Payments Data



The Centers for Medicare & Medicaid Services (CMS) has updated the open payments dataset to reflect changes to the data that took place since the last publication on June 30, 2016. Every year, CMS updates the Open Payments data at least once to include updates from disputes and other data corrections made since the initial publication of the data. The updated dataset reflects changes made to records, changes to delays in publication flags, changes to disputed records, and records that were deleted. Information on how to dispute data is posted on the Open Payments website.
January Course of the Month Now Available



The January course of the month, "Evaluating and Managing Agitated Patients," reviews evolving approaches to managing agitated patients and offers suggestions to not only psychiatry residents and trainees, but also seasoned emergency department and psychiatric emergency services staff. For more information, click here.
DEA Puts New Limits on Registration Renewal Process



The Drug Enforcement Administration (DEA) has announced significant changes to its registration renewal process. Effective January 1, 2017, the DEA eliminated the informal grace period for registrants to renew their registrations. Only one renewal notice will be sent to each registrant's "mail to" address approximately 65 days prior to the expiration date. Also, online capability to renew a DEA registration after the expiration date will no longer be available, and failure to file a renewal application by the expiration date will result in the "retirement" of the registrant's DEA number. The announcement also includes other important information—click here for full details.
Thinking About a Career Move? Check Out JobCentral



APA JobCentral is the career hub for psychiatry. View open positions, post a resume, or set up email job alerts. Visit jobcentral to view recently posted jobs, such as child and adolescent psychiatrists in Pennsylvania or multiple opportunities in Los Angeles County, Calif. Browse through hundreds of other job openings across the country and around the world.
Need Help Evaluating Mental Health Apps?



The use of mobile health (mHealth) technologies in health care has grown rapidly, with thousands of smartphone and tablet applications (apps) purporting clinical and other benefits to physicians and patients. To help psychiatrists navigate the process of choosing and evaluating these apps, APA has developed the "App Evaluation Model." This free tool offers guidance on evaluating apps' usefulness, privacy and security, and other technical and clinical considerations, so that psychiatrists can select the best apps for their practice. explore the tool now.
Advancing Minority Mental Health Awards



The American Psychiatric Association Foundation is accepting applications for its 2017 Awards for Advancing Minority Mental Health. The awards, in the amount of $5,000, recognize psychiatrists, other health professionals, mental health programs, and other organizations that have undertaken innovative and supportive efforts to improve and increase access to mental health services for underserved minorities. Applications must be postmarked by January 20. obtain more information and apply.
There's Still Time to Renew!



Let the APA help you with a fresh start for the new year! As we work toward new member opportunities and initiatives, we look forward to your continued support. APA is resolved to be with you at every step of your career. It's not too late! renew your membership today and keep building on the success we have already achieved together.
Get a $100 Cash Rewards Bonus While Supporting APA



The BankAmericard Cash Rewards™ Visa Signature® credit card for APA members lets you earn more cash back for the things you buy most: 1% cash back on purchases, 2% at grocery stores and now at wholesale clubs, and 3% on gas for the first $2,500 in combined grocery store, wholesale club, and gas purchases each quarter. apply now.
INTEGRATED CARE: WHAT IT MEANS TO YOU
Publications From American Psychiatric Association Publishing

Psychiatric News
Guidelines Announced for Women's Preventive Services



Specific preventive services for women covered without copayments under the ACA have now been determined with the help of the head of APA's Women's Caucus. Read more.


Psychiatric Services
Peer Navigators Found to Help African Americans With Serious Mental Illness


In this randomized, controlled trial comparing usual care (n=33) to the presence of a peer navigator, 34 homeless African Americans with serious mental illness fared better in a complex health care system when paired for one year with a "peer navigator" living successfully with mental illness within the community. The navigators offered practical and logistic guidance on doctor's orders, medications, and therapy options in the real medical setting during real time. They also provided empathy and reflective listening when components of care become overwhelming. Overall health and quality of life, including homelessness, improved for intervention recipients. Read more.

Many Medicaid Patients With Severe Mental Illness Not Being Tested for HIV

Among Medicaid enrollees with severe mental illness in California's public mental health system, only 6.7% received HIV testing in a one-year period. The authors encourage public mental health administrators to expand efforts to integrate care beyond cardiovascular risk reduction to develop multilevel interventions to improve HIV testing. Read more.
FOR RESIDENTS AND FELLOWS
Tips for Conducting Research During Residency



While many psychiatry residents want to engage in research and scholarly projects, doing so is frequently challenging because of a lack of guidance, time, and resources. Often the hardest part is overcoming the initial hesitation and uncertainty. The latest Residents' Forum, Awais Aftab, M.D., gives some guidelines that he's developed from personal experience that can make it easier for residents to undertake a scholarly project. Read more.
AJP Residents' Journal



The January issue includes a number of articles focusing on suicide as well as a call for applications for the 2017 Editorial Board. Visit ajp's residents' journal.
Please Vote in APA's 2017 Election



In this month's Residents' Forum, Stella Cai, M.D., discusses the importance of voting in APA's 2017 election. Read more.
Apply for APA/APAF Fellowship Opportunities!



Work with Congress on health policy, conduct research of your own design, expand care access to minority and underserved populations, focus on child psychiatry or substance abuse, and much more. The APA/APAF Fellowships provide residents like you the experiential learning, training, and professional development they need to be leaders in the field of psychiatry. Applications are due by January 30. learn about the fellowships and how to apply.

MOST VIEWED ARTICLES IN
PSYCHIATRIC NEWS LAST WEEK
APA to Provide Framework to Evaluate Mobile Health Apps
Important Changes in DSM-5 to Become Effective October 1
How to Diagnose and Treat Disruptive Mood Dysregulation Disorder
In Memoriam
Cost-Effectiveness and the Role of Psychodynamic Psychotherapies
CURRENT ISSUE OF
PSYCHIATRIC NEWS
One of Many Reasons Why Psychiatry Is Such a Fabulous Specialty
Magnetic Stimulation Can Reactivate Latent Working Memories

GI, Pulmonary Illnesses: Most Cited for Hospitalizing Clozapine Patients
Using Many Social Media Platforms Linked With Depression, Anxiety Risk
Early Social Functioning May Predict Long-Term Outcome in Psychosis

American Psychiatric Association Publishing
Book of the Week


Study Guide for the Psychiatry Board Examination

Edited by Philip R. Muskin, M.D., and Anna L. Dickerman, M.D.

>>description, contents, and reviews

>>order the book

Job Hunting Made Easy: Here's Help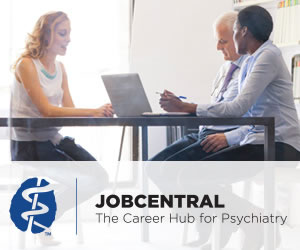 Click here for current job opportunities in APA JobCentral. Search the site for available positions, post your resume, and set up job alerts.
Check out the latest issues of
APA's major periodicals.

Psychiatric Services

If It Works for Pills, Can It Work for Skills?
An Open Forum asks whether direct-to-consumer marketing—so successful in increasing demand for psychotropic medication—could be used to raise awareness of evidence-based psychological treatments.

2014 Saw Shift in Mental Illness Coverage and Treatment
The uninsured rate for individuals with mental and substance use disorders significantly declined and treatment for mental disorders increased in 2014, the year in which key elements of the Affordable Care Act went into effect.
>>subscribe to blog rss
>>subscribe to blog via email