Behavioral Addictions: Helping Patients to Engage in Treatment



While traditionally the term "addiction" was confined to substance use disorders, extreme behaviors are now being recognized as "behavioral addictions" and attracting attention for their relevant social impact. This group includes sex, love, gambling, food, work, Internet use, and compulsive buying. Unlike with other behavioral addictions where research remains in its infancy, research in pathological gambling and substance use disorders suggests a strong neurobiological link based on biochemical, functional, neuroimaging, and genetic studies. A research work group of the DSM reclassified gambling disorder, making it the first (and only) behavioral addiction in DSM. "Internet gaming disorder" is a "condition for further study" and listed in Section 3 of DSM-5. Read more.

Michael Ascher, M.D., is a clinical associate in psychiatry at the University of Pennsylvania Perelman School of Medicine. He is the coeditor of The Behavioral Addictions, published by American Psychiatric Publishing. APA members can order the book at discount here.
Register for the International Congress of the Royal College of Psychiatrists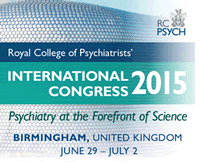 With a projected attendance of over 2,000 delegates from more than 50 countries, the International Congress of the Royal College of Psychiatrists is one of the biggest events on the annual mental health conference calendar. The congress takes place June 29 to July 2 and will have over 100 hours of academic programming. The presenters over the four-day conference include academics, physicians, psychiatrists, patients, family members, carers, policymakers, and journalists within a program that will include plenty of opportunities for networking and socializing. To obtain more information and to register, click here.
Register Now for Opioid Webinar



Despite overwhelming evidence with methadone, and now with buprenorphine, that maintenance provides better outcomes and is safer for patients, most patients with opioid use disorder are not receiving medication-assisted treatment (MAT), and those who are often are advised to taper and discontinue medication. This session, "Opioid Agonist Therapy: The Duration Dilemma," will review the evidence for maintenance versus withdrawal and will address stigma, which is often the reason patients withdraw from effective medication assisted treatment. The webinar, sponsored by APA, takes place on March 10. Register now.
Call for Applications: APA Medical Student Senior Elective in HIV Psychiatry



Psychiatrists in academic institutions may want to encourage medical students interested in psychiatry to apply for APA's "Elective in HIV Psychiatry." The course begins in late summer with an intensive day and a-half training in Washington, D.C. Topics range from neuropsychiatric complications of HIV, somatic complaints, and mood disorders to special patient populations, including people with substance use disorders and/or those suffering from severe mental illnesses. Students then travel to training sites for their clinical or research experience for the month of September. The application deadline is March 20 with selections to be announced in late April. To obtain more information and to access the application, click here.
Loan Repayment Program Applications Now Being Accepted



The 2015 National Health Service Corps Loan Repayment Program application cycle is now open and will close on March 30 at 7:30 p.m. EST. This program provides loan repayment assistance to licensed primary care medical, dental, and mental and behavioral health providers who serve in communities with limited access to health care. There are both full-time and half-time service options. Available resources include the application and program guidance and instructions on how to apply.
APA Releases Employer Guide on MH Parity



Here's one way you can help your patients ensure they are getting the mental health benefits to which they may be entitled. The American Psychiatric Foundation and its Partnership for Workplace Mental Health have released an updated version of its employer guide for compliance with the mental health parity and addiction equity act. The guide provides employers with information to help them understand and comply with the mental health parity law. This knowledge is particularly important because employers are liable for noncompliance and subject to potentially significant penalties—as high as $100 per member per day of noncompliance. Being armed with this information will help you and your patients know their rights under the parity law. Another helpful resource is a poster created by APA.
APA Annual Meeting, May 16-20, Toronto
Advance registration fees now in effect!

APA President to Lead Dialogue With Helen S. Mayberg, M.D., and Patrick Kennedy


APA President Paul Summergrad, M.D., will be joined in a special conversation following the Opening Session with the Hon. Patrick Kennedy and Helen S. Mayberg, M.D., for a thought-provoking and wide-ranging conversation about neuroscience opportunities in psychiatry, the role of advocacy, and the challenges of talking about complex neuropsychiatric illness and mental health more broadly. register now.
Join With APA to 'Give Back'



When you register for the annual meeting, be sure to participate in the "APA Gives Back" program. This is an opportunity for APA, its members, and other annual meeting attendees to support a community organization in the host city of the annual meeting. This year's recipient is covenant house toronto. Contributions may be made when you register for the annual meeting. APA will match the amount contributed. To date, the APA Gives Back program has donated $67,177 to local groups in annual meeting host cities.
Auto and Home Insurance Can Give You Peace of Mind



Liberty Mutual offers APA members savings on auto and home insurance. Along with coverage, advice, and personalized service, you receive benefits such as Better Car Replacement, Accident Forgiveness, Home Protector Plus, and Multi-Policy Discount. Call (800) 524-9400 or visit liberty mutual to learn more or get a free quote.
Looking for Malpractice Insurance? APA Has the Answer



The apa members-only malpractice insurance program, administered by American Professional Agency Inc. ("APA Inc."), is a medical malpractice program for mental health professionals, specifically psychiatrists. APA Inc. has been insuring psychiatrists for more than 30 years and offers members risk-management consultation services staffed by experienced professionals, as well as additional discounts and benefits. For additional information regarding insurance rates and coverage, visit american professional agency inc.

>>INTEGRATED CARE: WHAT IT MEANS TO YOU

Mortality Statistics on Mental Illness Call for Collaborative Care



Mental disorders would appear to rank among the most substantial causes of death worldwide, according to an analysis that appears in JAMA Psychiatry. Results from the analysis argue for integrated, collaborative care models to address comorbid mental and general medical illness. "People with mental disorders experience a high burden of mortality at the individual and population levels," say researchers at Emory University. "Reduction of this burden will require a focus on less prevalent but more severe diagnoses and more common mental disorders. Likewise, efforts must be made to prevent and manage comorbid medical conditions and reduce the occurrence of natural deaths in this vulnerable population." Read more.

Technology to Support Patient Transitions Critical to Success of Integrated Care



To avoid readmissions that occur because of mismanaged care transitions, organizations have begun to leverage integrated care management technology platforms to personalize patient care, allow for care plans that travel with patients as they transition, and support coordinated care across the continuum, according to PRWeb. Care transitions, or the movement from one health care setting or practitioner to another, are especially challenging for patients with complex conditions or limited resources. Casenet, a provider of extensible care management solutions, has released a series of whitepapers focused on the use of technology to support care coordination. Read more.

Mayo Expert Talks About DIAMOND Care



Psychiatrist Mark Williams, M.D., spoke with No Health Without Mental Health (NHMH) about the Mayo Clinic's experiences with implementing collaborative care into its primary care network. NHMH is a social marketing and communications venture whose mission is to redefine society's understanding of "health" to include mental health and physical health seamlessly. In 2007, Mayo integrated behavioral health through the Depression Improvement Across Minnesota, Offering a New Direction (DIAMOND). DIAMOND focuses on treating adult depression. By 2010, Mayo had expanded the DIAMOND program to all of its primary care clinics. Read more.

Unützer Describes Why Collaborative Care Is Catching On



The University of Washington's Jürgen Unützer, M.D., spoke with the Commonwealth Fund's Pamela Riley, M.D., and Deborah Bachrach, a partner with Manatt, Phelps, and Phillips, about the challenges and opportunities in developing integrated care models in the podcast "Why More Practices Are Merging Behavioral Health and Primary Care." Listen to the podcast.

Publications From American Psychiatric Publishing

Psychiatric News
Integrated Psychosocial Care for Cancer Patients



Over 14 million Americans, or 4 percent of the population, are living with a cancer diagnosis. Each year, over 1.6 million people are diagnosed with cancer. Nearly 1 in 2 males and more than 1 in 3 females will be diagnosed with cancer during their lifetime. Fortunately, in most cases, cancer can be managed as a curable or "chronic" condition. Attention has increasingly turned to improving not just survivors' length of life but their quality of life. Read more.

For other Psychiatric News articles on integrated care, click here.
Message From Lara Cox, M.D.

Resident-Fellow Member Trustee



One of my responsibilities as RFM trustee is to coordinate the Residents' Forum in Psychiatric News, and I'd like to invite all of you to submit a piece for the column! We are looking for the RFM perspective on issues that affect us or are uniquely important to us as trainees and beginning clinicians. Participating in the column is a wonderful opportunity to publish early in your career. Columns should be 500 to 600 words in length. If you would like to submit a column, please contact me at larajcox.apa@gmail.com. Also, please feel free to be in touch with any questions about participating or about RFM issues in general. Thanks, and I look forward to hearing from you!


Advertisement



>>MOST VIEWED ARTICLES IN
PSYCHIATRIC NEWS LAST WEEK

>>ICD Codes for Some DSM-5 Diagnoses Updated

>>Media Cling to Stigmatizing Portrayals of Mental Illness

>>Men Shouldn't Be Overlooked as Victims of Partner Violence

>>Benzodiazepines Combined With Other Substances Increase Risks

>>DSM-5 Updates Depressive, Anxiety, and OCD Criteria

>>CURRENT ISSUE OF PSYCHIATRIC NEWS

>>APA 168th Annual Meeting Preliminary Program

>>What's for Dinner? Almost Anything You Can Imagine in Toronto!

>>Toronto Museums Span Gamut From Head to Toe

>>NIAAA Track Focuses on Pharmacotherapy, Alcohol Disorder Guidelines

>>Minority, Underrepresented Groups Share Concerns Through Caucuses

Advertisement

>>BOOKS

American Psychiatric Publishing
Book of the Week

Helping Kids in Crisis: Managing Psychiatric Emergencies in Children and Adolescents

Edited by Fadi Haddad, M.D., and Ruth Gerson, M.D.

>>description, contents, and reviews

>>order the book

>>APA JOB CENTRAL

Job Hunting Made Easy: Here's Help



For current job opportunities from the job board at APA Job Central, click here. In addition to searching the site for available positions, APA members may post their resume, set up email job alerts, and access a "job seeker" account.

>>APA PERIODICALS

Check out the latest issues of
APA's major periodicals.

Psychiatric Services

>>Making New CPT Codes Work for Psychiatrists
Researchers at Cigna Behavioral Health provide tips to help psychiatrists maximize the utility of the new CPT codes and get paid what they deserve.

>>Integrated Treatment Falls Short
Providers at California mental health programs described persistent barriers to the treatment of patients with co-occurring disorders, despite an infusion of funds for integrating mental health and substance abuse services.

>>A Patient's Hospitalization Poses New Challenges for Caregivers
Caregivers of persons with mental illness often need help coping with the myriad emotions and practical demands they face when a patient is hospitalized, according to a literature review.
Focus
>>The Neurobiology of Bipolar Disorder
Bipolar disorder is a heterogeneous, complex, multidimensional neuropsychiatric condition characterized by episodes of (hypo)mania and depression. The neurobiology of bipolar disorder is undoubtedly complicated, and much remains to be discovered regarding the neural and genetic correlates of this disorder.
>>Metabolic Comorbidity and Physical Health Implications for Bipolar Disorder
Medical comorbidities are overrepresented in individuals with bipolar disorder, including, but not limited to, cardiovascular conditions, autoimmune diseases, cancer, and metabolic disorders. Overweight/obesity, metabolic syndrome, and type 2 diabetes mellitus are highly prevalent in individuals with bipolar disorder.
>>Management of Bipolar Disorder in Children and Adolescents
Treatment options for bipolar disorder have been primarily studied in adults. However, there is a growing body of research of these treatments in youths with bipolar disorder.
>>subscribe to blog rss
>>subscribe to blog via email