Creighton/Nebraska Residents Win 2015 MindGames Competition

Residents from Creighton University/University of Nebraska won the 2015 MindGames competition last night at APA's 2015 annual meeting in Toronto, with an exciting, come-from-behind victory after wagering 3,000 points on the final MindGames question, and giving the correct answer to "Name the brain region activated when an individual is in a resting state."

>>read more and watch video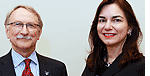 Assembly Election Results Announced
At their meeting in Toronto, APA Assembly representatives voted to make outgoing recorder Daniel Anzia, M.D., of River Forest, Ill., their next speaker-elect and Theresa Miskimen, M.D., a representative of the New Jersey Psychiatric Association, their next recorder. Both took office at the close of the annual meeting today, at which time Glenn Martin, M.D., of Forest Hills, N.Y., became Assembly speaker.




APA Focuses on Member Services in Changing Practice Environment
In this video interview, APA CEO and Medical Director Saul Levin, M.D., M.P.A., talks about the strategic initiatives on which APA will be focusing to help APA members adapt to the changing health care delivery system, maintenance of certification requirements, and other forces impacting the field of psychiatry today. He also discusses the rebranding initiative that APA undertook earlier this year, culminating in the launch of a new logo and tagline for apa. The rebranding involves more than the adoption of a new logo. It will serve to differentiate APA from other mental health organizations and educate policymakers, legislators, and the public that psychiatrists are the physicians who provide care for the mind and body. >>watch video



Kennedy Honored for Tireless Advocacy on Behalf of People With Mental Illness
Former Rep. Patrick Kennedy was presented the APA Patient Advocacy Award for serving as one of the nation's leading advocates for individuals living with mental illness and substance use disorder during APA's 2015 annual meeting in Toronto yesterday.>>read more




Experts Provide Update on ECT Use
Experts in electroconvulsive therapy (ECT) led a session today at APA's 2015 annual meeting in Toronto to provide psychiatrists with an overview of the effectiveness and appropriate practices of using ECT for the treatment of mental disorders. "ECT is a very effective treatment for certain populations with severe mental disorders," said session chair Peter Rosenquist, M.D., vice chair of psychiatry at Georgia Regents University... >>read more and watch video



Joy Can Come From Suffering, Says Ram Dass in Special Session
At APA's annual meeting yesterday, APA President Paul Summergrad, M.D., presented a videotaped conversation with 1960s icon Ram Dass. They spoke of Dass's extended journey through mysticism and spirituality. "I don't identify with the mind," he told Summergrad. "I identify with the soul. The mind has the ego." >>read more



Can We Treat the Cheat?
"Deflategate" may be the word of the day in the sports world, but it is neither the first nor the last example of athletes cheating to gain an edge on competitors. Winning is everything to many athletes, no matter the cost to their integrity and health. Cheating in sports falls into one of the four B's: Betting, Bribery, Battery, and Banned substances, said Thomas Newmark, M.D., a professor of psychiatry at the Rowan School of Medicine, at APA's 2015 annual meeting in Toronto today. >>read more




Beyond Inflammation: Diverse Immune and Metabolic Dysfunctions in Clinical Depression
The role of inflammation in depression grows more complex as additional research is brought to bear on the subject. >>read more




Experts Call for Better General Medical Care of Young People on Antipsychotics
An NIMH-funded study of metabolic effects of antipsychotics in children demonstrated that antipsychotic-induced increases in adiposity were associated with adverse changes in insulin sensitivity measured for adipose and hepatic tissue. >>read more




Understanding Patients' Cultural Perception of Mental Illness Crucial to Effective Treatment
Clinicians diagnosing and treating depression among members of ethnic minorities, especially immigrants, need to go beyond mere translation to engage patients, said Albert Yeung, M.D., Sc.D., director of primary care studies in the Massachusetts General Hospital Depression Clinical and Research Program. >>read more




APA Publishes DSM-5 Guide for Patients, General Public
Psychiatrists have been expressing a need for an authoritative, DSM-5-compliant book on mental illness to which they can refer patients, families, and the public. Such a book has just been published by American Psychiatric Publishing (APP)—understanding mental disorders: your guide to dsm-5. >>watch video