McCance-Katz Leads Effort to Focus SAMHSA on Serious Mental Illness, Substance Use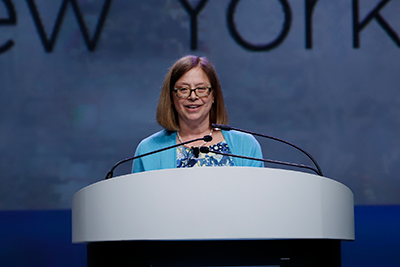 The federal government can work to serve patients and physicians, said Elinore McCance-Katz, M.D., Ph.D., at the Convocation of Distinguished Fellows at APA's 2018 Annual Meeting tonight.

McCance-Katz is the first assistant secretary of mental health and substance use at the Department of Health and Human Services and head of the Substance Use and Mental Health Services Administration (SAMSHA). The position was created in the 21st Century Cures Act, signed by President Barack Obama.

"The most valuable component of SAMHSA's strategy is engagement with national stakeholders like APA," she said. "I ask APA and its component groups to work with us and make your voice heard. Consider what is needed and don't ask for partial solutions. Ask for what you know your patients need."

McCance-Katz recounted her own path as a clinician, educator, researcher, and administrator that led her to become the first psychiatrist to lead SAMSHA—a path that was aided by a "gift for saying yes" to opportunities and the help of mentors like past APA President Alan Tasman, M.D., who convinced her to enter psychiatry.

She has worked in the field of addiction medicine for 22 years with a special interest in pharmacotherapy for substance use disorders, clinical pharmacology of drugs of abuse, mental illness, the development of cocaine/alcohol/opioid treatment medication, co-occurring substance use disorders, and infectious diseases (including HIV/AIDS and HCV).

McCance-Katz recalled that when the opioid epidemic began to take off in the 1990s, the pharmaceutical industry had convinced the public that opioids like Oxycontin were "minimally addictive" and safe. "Those of us in addiction medicine knew it wasn't true, but we didn't have a voice—with consequences that have become tragic."

Meanwhile, she said, organized medicine pushed the need for physicians to treat pain—as the fifth vital sign—and "did nothing to reign in gross overprescribing."

She added, "It was then that I realized the importance of regulation, and the role of government, and I saw that physicians and psychiatrists needed to have a voice in government."

Prior to coming to SAMHSA, she was appointed by Rhode Island Gov. Gina Raimondo to the Governor's Overdose Prevention and Intervention Task Force. The task force developed an action plan that included, among other features, placement of peers in hospital emergency departments to help overdose victims find treatment; distribution of naloxone and training of first responders in how to use the agent; regulations on the amount of prescription pain killers that could be prescribed for acute pain; and the creation of 10 "Centers of Excellence" around the state for treatment of opioid addiction.

For the first nine months of 2017, the task force reported an 8 percent drop in overdose deaths. According to the task force's website, between January and September 2017, there were 233 deaths due to overdose in the state, compared with 253 in the same period in 2016.

McCance-Katz said the Trump administration has been enormously supportive of efforts to refocus the mission of SAMHSA on treatment of serious mental illness and substance use disorders. She vowed to advocate for the following:
Evidence-based treatments of substance use disorders, including medication-assisted treatment with appropriate psychosocial supports.




Evidence-based use of assertive community outreach to serve people with serious mental illness where they live.




The alignment of privacy laws under 42CFR Part 11 so that providers, patients, and families can communicate about substance use treatment.




Parity in access to care for patients and reimbursement for providers to attract more physicians into the field of substance use treatment. medication-assisted treatment with appropriate psychosocial supports.




Collaboration across federal agencies whose missions—such as housing and employment—affect those with mental illness and substance use disorders.medication-assisted treatment with appropriate psychosocial supports.



Introducing McCance-Katz prior to the lecture, APA CEO and Medical Director Saul Levin, M.D., M.P.A., noted that a key part of her charge as the new assistant secretary of mental health and substance use is to coordinate activities across all federal agencies. "It is already having a real impact on those with mental illness and substance use disorders across our country," Levin said.

McCance-Katz said APA's advocacy was crucial in her appointment and confirmation and in the creation of the new post as part of the 21st Century Cures Act. "Without it, I believe the outcome would have been different," she said.

She emphasized that government need not be regarded as an obstacle, but can be part of the solution. "I would ask psychiatrists here to consider what you can do by participating in government service. You are very much needed and will be very much valued. We have never had greater challenges, and we have never had greater opportunities."

(Image: David Hathcox)
Advertisement