APA Foundation Presents Advancing Minority Mental Health Awards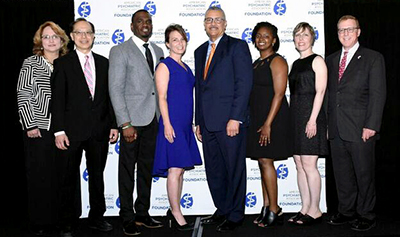 The 2018 APA Foundation Awards for Advancing Minority Mental Health were announced Saturday at the annual benefit of the American Psychiatric Association Foundation.

The awards, created in 2003, recognize psychiatrists, other health professionals, and organizations that have undertaken innovative efforts to raise awareness of mental illness in underserved minority communities, increase access to care, overcome cultural barriers to care, and improve the quality of care for underserved minorities, particularly those in the public health system or with severe mental illness.

Here are brief descriptions of this year's winners:
Rwenshaun Miller, M.A., is founder and executive director of Eustress Inc. This nonprofit organization is dedicated to raising awareness about the importance of mental health in underserved communities, allowing individuals to identify and overcome challenges to achieve a healthier and productive lifestyle. Since 2013, Miller has engaged in community and online events with his campaign called "Let's Talk About It," which creates safe spaces for open and honest dialogue about mental illness.


Amittia Parker, M.S.W., M.P.A., has spent over a decade helping culturally and language-diverse children and families struggling with poverty, domestic violence, addiction, and trauma through her work in predominantly African-American and Latino communities. Parker teaches and mentors other social workers and recruits minority social work students through a leadership program at her university. She is a doctoral student in the Department of Social Welfare at the University of Kansas.


Albert Yeung, M.D., Sc.D., has worked to address key language and cultural barriers and strong stigma against mental illness for Asian Americans and oversees Asian students living in the United States. He is the director of Primary Care Research in the Massachusetts General Hospital Depression Clinical and Research Program, co-medical director of the South Cove Community Health Center, and an associate professor of psychiatry at Harvard Medical School.


The Ecumenical Center has a 50-year history of providing counseling to minorities at 18 satellite locations in San Antonio and the surrounding counties. Last year, the center reached 24,000 individuals—12,000 of whom were children. The center addresses transportation and financial barriers to enable people to get the care they need. Counselors and educators are people of personal faith with an openness and understanding of other faith expressions and are trained to incorporate, when requested, the and traditions of the client's individual beliefs in the healing process.


El Paso Child Guidance Center is located in the heart of a binational, bicultural, and profoundly underserved metropolitan area. Its workers serve the community by providing quality mental health services to children, families, and individuals of all ages in which no client is ever turned away from service due to financial barriers. This year, the center aims to expand its work by assessing, training, and evaluating professionals and teachers in the elementary and foster care settings.


Threshold Clubhouse is the oldest running mental health organization serving the Durham, N.C., community. Open seven days a week, Threshold serves more than 43 men and women each day and approximately 110 members on an annual basis. In a predominately African-American neighborhood, 90 percent of members are low income and have chronic health conditions. Threshold provides meaningful and critical supports to remain in recovery and avoid rehospitalization.
(Image: Oscar and Associates)
Advertisement