Leonard Bernstein Lived a Life of Contradictions, Says Richard Kogan, M.D.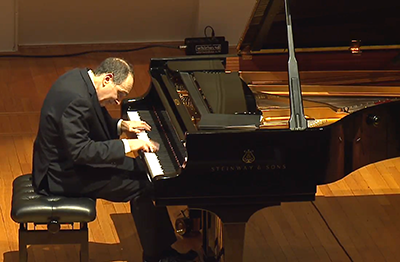 For this year's presentation of his "Music and the Mind" series, which is a perennial favorite at APA's Annual Meeting, Richard Kogan, M.D., said picking a biographical subject was not a difficult choice at all—legendary conductor and composer Leonard Bernstein. And as 2018 is the 100th anniversary of Bernstein's birth, the choice was even more fitting.

Kogan, a classically trained pianist, is a clinical professor of psychiatry at Weill Cornell Medical College, artistic director of the Weill Cornell Music and Medicine Program, and co-director of the Weill Cornell Human Sexuality Program. As with previous presentations in his series, Kogan delighted the audience with an engaging biography of Bernstein's life and career mixed in with musical performances from his two most popular works, "On the Town" and "West Side Story."

As with many creative geniuses, Bernstein lived a life marked with public adulation but also personal turmoil. Bernstein had a hyperthymic personality, said Kogan; he was exuberant, gregarious, the veritable life of the party. He was also prolific and dedicated to his musical craft, which stemmed from an almost utopian belief in the power of music to help mankind. Together that fueled an upward trajectory as Bernstein completed one challenge after another—writing award-winning pieces, reviving the fortunes of the New York Philharmonic after taking over as its lead conductor, and using the nascent technology of television to bring entertaining music education to the public.

Kogan noted that many musicians of his generation, himself included, would list Bernstein's educational children's series, Young People's Concerts, as strong influences on their own careers.

That energy and drive took a toll, however. Bernstein struggled with addiction for most of his life, notably to cigarettes and alcohol. (Kogan described some stories of how Bernstein had prelit cigarettes ready for him backstage at the end of orchestral shows, so he could take puffs in between bows.) He was usually so wired after his conducting performances that he needed sedatives to help sleep. And his need for attention was overwhelming.

As Bernstein aged, those narcissistic dreams and desires that fed his youth and drove him to prominence gradually turned into guilt and depression, Kogan noted. Despite his tremendous success in multiple artistic venues—theater, film, and symphony—Bernstein always felt daunted that he would be remembered most as a conductor, and that he could never replicate the tremendous success of "West Side Story." He also mistakenly believed that he was responsible for his wife's death due to cancer, which he attributed to his leaving her for a few years to live with his lover after he came out as gay.

From a psychoanalytic perspective, Kogan described Bernstein's life as a constant pull between id and superego. On the one end, Bernstein desired to be a respected member of the Jewish community like his father, a married man, and a great classical composer like Gustav Mahler. But he also thoroughly enjoyed being an urbane socialite, a gay man, and the creator of popular showtunes.

"He sustained these many contradictions so well for most of his life," said Kogan as he closed the session. "And it also served as an inspiration for his music. Every composition he wrote feels like a piece only he could write."

A short video of Kogan playing "America" from "West Side Story" can be viewed here.
Advertisement