APA's New Mental Health Registry Will Help You Improve Care, Meet Reporting Requirements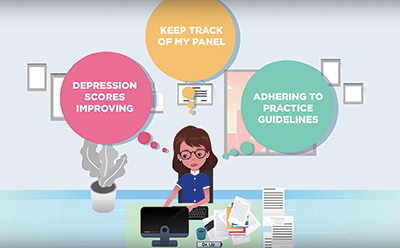 PsychPRO, the mental health registry being developed by APA to help members more easily meet quality reporting and maintenance of certification (MOC) requirements, has gotten off to a fast start since the launch of its preliminary phases last October.

Psychiatrists attending this year's Annual Meeting are invited to APA Central in the Exhibit Hall to learn more about this vital APA initiative. APA staff are on hand to provide details about PsychPRO and add their names to a growing number of psychiatrists who are joining it.

"With recent changes to health care delivery, the opportunity to use patient registries to improve quality of care and patient outcomes has never been greater," said APA CEO and Medical Director Saul Levin, M.D., M.P.A., who is co-chairing a symposium on Tuesday on the registry with Philip Wang, M.D., M.P.H., director of the APA Division of Research. "Registries seek to achieve several important goals, including supporting quality reporting by physicians and other health care providers, improving the quality of care for patients, and helping provide research data needed to develop new quality measures, as well as improving diagnostics and therapeutics.

"For psychiatrists specifically, a patient registry represents a simplified solution for meeting quality reporting standards while avoiding payment penalties for failure to report on use of quality measures," Levin continued. "It also will facilitate psychiatrists meeting MOC Part IV reporting requirements." Attendees will learn about the purpose of a registry and how it can help improve patient outcomes and assist researchers seeking better treatments.

APA secured more than enough participants to apply for and receive certification as a qualified registry by the Centers for Medicare and Medicaid Services (CMS). Qualified Registry certification by CMS means that participating clinicians will be able to avert the 4 percent penalty imposed on those who fail to report under the new Merit-Based Incentive Payment System (MIPS). Participating members may also qualify for financial incentives.

Additionally, APA has secured an agreement with the National Network of Depression Centers (NNDC) to encourage its more than 20 institutional members to join PsychPRO and to partner on national research efforts. NNDC is a coalition of academic medical centers focused on depression and bipolar disorder research.

"The progress of APA's registry is extremely encouraging," said APA President Maria A. Oquendo, M.D., Ph.D., "and promises to be an enormous asset to our profession."

Levin echoed that observation. "The focus in health care will increasingly be on improving patient outcomes," he said. "That's where a registry becomes vital—allowing us to help our members meet the requirements and produce the best outcomes for our patients."

Learn more about PsychPRO by watching this brief video and visiting APA's website.