Partnerships Are Key to Caring for Members of the Military, Says Vice Admiral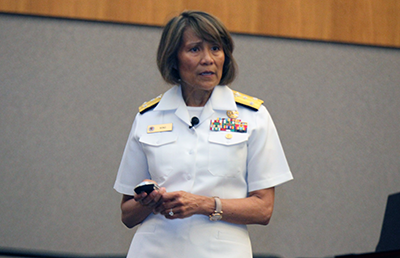 "We are strongest when we work together across service lines," said Navy Vice Adm. Raquel Bono (pictured above), director of the Defense Health Agency (DHA). "As a surgeon, I am not going to ask for a scalpel in a different way because the patient is in the Army or the Navy. Our common mission is the patient we serve, regardless of what kind of boots he or she wears."

Bono made her remarks Monday in the session "Defense Health Agency and Mental Health: Family and Service Members," in which her theme was partnerships—across military service lines and, importantly, with civilian health care providers.

"As director of the DHA, I have the opportunity to oversee where our best practices are occurring and work to expand, integrate, and standardize those practices across the military," Bono said. "If we do this the right way, we have a real opportunity to create a robust system serving all of our military service men and women and their families."

Bono said integration of health care across service lines is codified now in the most recent National Defense Authorization Act. Under the law, the mission of the DHA is to do the following:
Create a more globally integrated health system, accountable as a combat support agency.
Direct enterprise-wide shared services, standardizing clinical and business practices that produce better health and better care.
Manage TRICARE for 9.4 million beneficiaries around the world.
Deliver coordinated health care and support high quality coordinated care in all multiservice markets.
Regarding the visible wounds of battle, Bono said that the integration of the services is producing results. In the 15 years since the war in Afghanistan started, the case fatality rate per battle injury has dropped.

The invisible wounds have been more challenging. Bono solicited the help of psychiatrists in the civilian community to treat returning soldiers with traumatic brain injury and posttraumatic stress disorder. "We are very concerned about the suicide rate," she said. "We are not dealing with a single, unitary phenomenon, but one that is very complex depending on the individual. We recognize that we don't have all the answers, and we can't do it alone. Partnering with others is going to be invaluable."

Vice Adm. Bono brings to her role a distinguished career in medicine and the military. She obtained her baccalaureate degree from the University of Texas at Austin and attended medical school at Texas Tech University. She completed a surgical internship and a general surgery residency at Naval Medical Center Portsmouth and a trauma and critical care fellowship at the Eastern Virginia Graduate School of Medicine in Norfolk.

Shortly after training, Bono saw duty in Operations Desert Shield and Desert Storm as head of Casualty Receiving at Fleet Hospital 5 in Saudi Arabia from August 1990 to March 1991. Upon returning, she was stationed at Naval Medical Center Portsmouth as a surgeon in the General Surgery Department and attending surgeon at the Burn Trauma Unit at Sentara Norfolk General Hospital. Before becoming the director of the DHA, Bono served as director of the National Capital Region Medical Directorate of the DHA and as the 11th Chief of the Navy Medical Corps from September 2013 to October 2015.

Bono said military and civilian health care providers share a common overarching mission and have much to offer each other. The military is prepared to reach out to the civilian sector, she said, such as when Patrick Downes and Jessica Kensky—victims of the 2013 Boston Marathon bombing—were invited to Walter Reed National Military Army Hospital in Washington, D.C., and partnered with "battle buddies" who had lost limbs in battle.

Bono showed a video clip of a moving interview with Downes, who said, "We feel like we were embraced by the military family in a home that was meant for them."

Said Bono: "We have a sacred mission to care for our military service men and women and their families, but we also have a mission to share our experience and expertise with others. We hope you will share your experience and expertise with us."

(Image: David Hathcox)