Large Majority of Americans Say MH Care Should be Covered by Insurance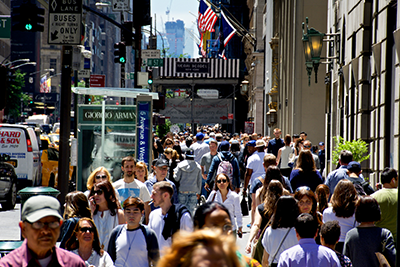 Mental health is important to Americans, and they think it should be important to their elected representatives as well, according to the results of a national poll released today by APA.

The poll found that majorities of Americans believe mental health care should be covered by insurance, including public insurance plans, but strong majorities also believe that mental health is not a priority to elected representatives. At the same time, accessing mental health care is challenging for many who report they do not know how to access it if needed. The poll also found high percentages of Americans who are anxious about their health, safety, finances, relationships, and politics (see below).

A striking finding from the poll was the extent to which the opioid addiction crisis has touched the lives of many Americans.

"This poll gives us some insight to Americans' understanding of the importance of mental health and the strong bipartisan support for mental health coverage," said APA President Maria A. Oquendo, M.D., Ph.D. "However, the number of people who don't know how to access mental health care and don't know about their coverage raises concerns."

Seventy-seven percent of Americans said private health insurance offered through an employer or union should cover mental health, including 76 percent of Democrats and 81 percent of Republicans. Fifty-one percent said that mental health care should be covered by all types of insurance, including individually purchased health insurance; insurance purchased through the health insurance exchanges or marketplace; and Medicaid, Medicare, and other government-provided sources (such as veterans benefits). This includes 55 percent of Democrats and 51 percent of Republicans. Baby boomers are more likely than millennials to support mental health coverage. At the same time, more than two-thirds (69 percent) think that mental health is a low priority or not a priority among Washington, D.C., policymakers.

"We've made progress in recent years with improving and expanding mental health coverage, but the American Health Care Act [AHCA] passed by the House will reverse much of that progress," said APA CEO and Medical Director Saul Levin, M.D., M.P.A. "The AHCA will remove insurance coverage from millions of Americans and roll back Medicaid expansion that occurred under the Affordable Care Act, potentially reducing access to care for the 1.3 million Americans with serious mental illness and the 2.8 million Americans with substance use disorders."

Importantly, the poll suggests that the opioid addiction crisis has made itself widely felt. More than a quarter of Americans and more than a third of millennials reported knowing someone who has been addicted to opioids or prescription painkillers. More than two-thirds of Americans said they "understand how someone accidentally gets addicted to opioids." Most Americans believe people can recover from opioid addiction, but most do not believe the country is moving in the right direction to address the problem. Regardless of gender, age, or income, only 20 percent of Americans believe that the country is headed in the right direction with regard to addressing the opioid crisis.

"Our poll findings show that Americans are aware of the problem of opioid addiction, believe people can recover, and want to see an emphasis on making treatment available," said Levin. "APA has long been involved in educating psychiatrists about addiction treatment, including medication-assisted treatment, and providing opportunities for medical students and residents for learning about addiction psychiatry. The number of young people—1 in 5—who believe it's OK to share prescriptions is troubling."

These findings are from an APA-sponsored poll conducted online using ORC International's CARAVAN® Omnibus Survey. A nationally representative sample of 1,019 adults were surveyed from April 20 to 23. The margin of error is +/-3.1 percentage points. The findings were extrapolated to the U.S. population. 

Americans Report Anxiety in Five Domains

Americans have a lot to be anxious about today, according to the results of a new national poll released by APA today. Nearly two-thirds of Americans are extremely or somewhat anxious about health and safety for themselves and their families, and more than a third are more anxious overall than last year, the poll found.

Respondents were asked to rate their anxiety in five areas: health, safety, finances, relationships, and politics. The results include the following:

Blacks and Hispanics reported higher levels of anxiety than whites. More than twice as many blacks and Hispanics (38 percent and 31 percent, respectively) reported being extremely anxious about their health compared with whites (15 percent).
People on Medicaid reported being more anxious than those with private health care.
More than one-third of respondents said they are more anxious than last year. Millennials are more likely than baby boomers to have more anxiety this year than last (41 percent and 32 percent, respectively).
More than half of respondents also reported being somewhat or extremely anxious about paying their bills and about the impact of politics on their daily life.
Democrats, Republicans, and Independents reported similar levels of anxiety overall. However, more Democrats (44 percent) than Republicans (29 percent) reported that their stress has increased in the past year. By generation, millennials were the most anxious, and baby boomers were the least. People of color also reported higher levels of anxiety.

(Image: iStock/JayLazarin)