Oquendo Recounts Victory of 21st Cures Act, APA's Ongoing Efforts on AHCA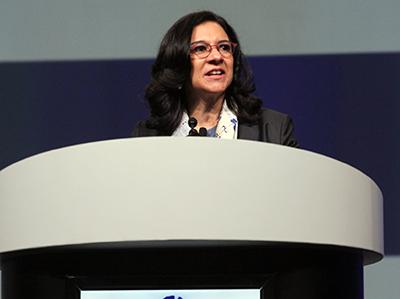 "We are at the threshold of a wonderful era for psychiatry," said APA President Maria A. Oquendo, M.D., Ph.D., recapping an eventful presidential year highlighted by her presence at the White House for the signing of the 21st Century Cures Act.

In her presidential address at tonight's Opening Session, Oquendo recalled her participation in hearings on Capitol Hill on mental health reform and the opioid epidemic and looked ahead to new challenges for an APA growing in membership and moving to a new headquarters building. But it was Oquendo's opportunity to witness the signing of the 21st Century Cures Act that she said would be the lasting memory of her presidential year.

"I was honored and grateful to have the opportunity to represent our great Association at this landmark event," she said. "When President Obama and Vice President Biden came onto the stage, there was loud, protracted applause. What followed was one of the most moving ceremonies I have witnessed. … They spoke about how this was the last bill that President Obama would sign into law." Among the specific provisions of the bill that she outlined were these:

Funds for medical research through the National Institutes of Health, including $1.5 billion for the Brain Research Through Advancing Innovative Neurotechnologies (BRAIN) Initiative.
Teeth for enforcing mental health care parity.
Strategies to improve the recruitment, training, and retention of a mental health/substance use disorder workforce.
Coordination of fragmented mental health resources across federal agencies through the establishment of an Assistant Secretary for Mental Health and Substance Use (psychiatrist Elinore McCance-Katz, M.D., has been nominated for this position).
Grants to support integrated care models for primary care and behavioral health care services.
Funding of $1 billion over two years to combat the opioid epidemic.
The outgoing president also emphasized the centrality of the opioid epidemic in the past year and APA's activities to educate policymakers about the issue. "In the most recent briefing on the opioid epidemic, APA lined up speakers that were simply spectacular," Oquendo said. "National leaders talked about what was needed to stem the increasing toll of prescription opioid misuse and its biological basis. … The discussion ranged from the importance of research to find new methods for identifying vulnerable individuals to the need to delineate the neurobiological changes that lead to the inexorable addiction that haunts some of those exposed to prescription opioids. Discussion about how stigma is actually codified in the way that some insurance companies go about approving detox or inpatient treatment, increasing risk for relapse and even death was heart rending."

Just two weeks before the Annual Meeting, Oquendo joined other physicians from the Front Line Physicians Coalition to visit seven Republican senators with concerns about the American Health Care Act. (The coalition comprises, in addition to APA, five other major medical associations representing pediatricians, family physicians, internists, and obstetrician/gynecologists.)

"Strikingly, mental and substance use disorders were very much on the minds of all the members of the coalition. Whether it was the OB/GYNs' president talking about babies in opioid withdrawal ending up in the Neonatal Intensive Care Unit, or the internists' president talking about depressed diabetics who could not adhere to treatment, or the pediatricians' president talking about suicidal behavior in adolescents—everyone was committed to making sure that psychiatry was right there, front and center at every last one of the seven conversations."

Oquendo added, "Before the Affordable Care Act, people with mental health issues struggled to obtain insurance coverage to help them access care. While not perfect, the ACA changed that by requiring companies to cover those with preexisting conditions—including mental health—and by mandating coverage of treatment for mental and substance use disorders. This law strengthened parity protections first outlined in federal law in 2008.

"As physicians, none of us wants to see these advances rolled back," she said. "We want to ensure patients continue to have access to care and that their mental and substance use disorders are treated just like any other ailments." That was the message that the coalition brought to Capitol Hill.

Finally, Oquendo touched on APA's growing membership and its move later this year to a new headquarters closer to the U.S. Capitol in Washington, D.C.

"I am pleased to be leaving the APA in strong standing," she said. "Our membership is more than 37,000 people strong—the highest numbers we have seen in 14 years. We have particularly seen growth in the number of women, African American, Asian, and Latino psychiatrists who are members of APA, as well as the number of international members joining our ranks."

Oquendo said the future is bright for psychiatrists and their patients. "We know more about the brain than ever, and new treatments are being developed that range from pharmacology to behavioral interventions and from brain stimulation to psychological treatments," she said. "As exciting, we have joined our sister disciplines in medicine to develop preventive strategies and influence health policy. These will form the centerpiece of 21st-century medicine and 21st-century psychiatry."

(Image: David Hathcox)