Taking Some Antipsychotics During Pregnancy May Raise Risk of Gestational Diabetes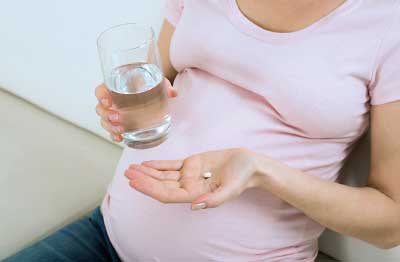 Women who continue use of the antipsychotic drugs olanzapine and quetiapine during pregnancy have an increased risk of gestational diabetes, according to a study in AJP in Advance that was released at the APA Annual Meeting. The risk is likely related to the metabolic effects known to be associated with these two drugs.

Senior author Krista F. Huybrechts, Ph.D., M.S., is an assistant professor of medicine at Harvard Medical School and an epidemiologist in the Division of Pharmacoepidemiology and Pharmacoeconomics at Brigham and Women's Hospital.

"In a large cohort of women without preexisting diabetes who were treated with antipsychotics before pregnancy, we observed an increased risk for developing gestational diabetes among women who continued to use olanzapine or quetiapine during the first 20 weeks of pregnancy compared with women who discontinued treatment," Huybrechts and colleagues reported. "There was a positive dose-response relationship between the use of olanzapine and risk for gestational diabetes."

Nondiabetic pregnant women who were linked to a live-born infant and enrolled in Medicaid (2000-2010) and who received one or more prescriptions dispensed for an antipsychotic drug in the three months before pregnancy were included in the analyses. Among 1,543,334 pregnancies, expectant mothers at baseline were receiving treatment with the following antipsychotics: aripiprazole (1,924), olanzapine (1,425), quetiapine (4,533), risperidone (1,824), or ziprasidone (673).

Women who had two or more additional prescriptions dispensed during the first 140 days of their pregnancy for the same antipsychotic medication they received before pregnancy were classified as "continuers." Women who had no prescriptions dispensed for an antipsychotic medication during the first 140 days of pregnancy were classified as "discontinuers."

The absolute risk for gestational diabetes ranged from 4.2 percent to 12.0 percent among continuers and from 3.8 percent to 4.7 percent among discontinuers. There was an elevated risk for gestational diabetes after confounding adjustment for olanzapine and quetiapine. Furthermore, there was evidence of a cumulative dose-response relationship with olanzapine.

The findings are consistent with previous reports that olanzapine induces the most weight gain among the five study drugs (aripiprazole, olanzapine, quetiapine, risperidone, and ziprasidone), which provides a plausible mechanism for the observed elevation in risk among women who continued treatment with this medication.

Use of psychiatric medications during pregnancy is a subject of much controversy and continued research; the risks—for mother and offspring—of side effects and relapse need to be balanced against the benefits of treatment.

"Further studies are needed in order to understand the potential effect of switching antipsychotic agents during pregnancy on the risk for gestational diabetes," Huybrechts and colleagues wrote. "Such information would aid treatment decisions pertaining to women for whom treatment discontinuation is not an option. In conclusion, although the risk for gestational diabetes is an important consideration in the selection of a specific drug, other dimensions of antipsychotic treatment, including the benefit of continuing a specific treatment and the risk of efficacy loss due to changes in treatment, should be taken into account in the treatment decisions for pregnant women."

The study was funded by a grant from the National Institute of Mental Health.