Psychiatry Needs to Move Beyond 'Medication Management'

| | | |
| --- | --- | --- |
| | | The structure of the "med check" format may be pushing mental health professionals to narrow their therapeutic focus to medications, argue the authors of the latest Expert's Corner. |
Clozapine, LAI Antipsychotics Found Best at Preventing Relapse

| | | |
| --- | --- | --- |
| | | Oral flupentixol, quetiapine, and perphenazine were associated with the highest risk of rehospitalization in patients with schizophrenia, according to the results of a large prospective Swedish study. |
| | | |
Tips for Minimizing Polypharmacy When Treating Patients With BPD

| | | |
| --- | --- | --- |
| | | |
INDUSTRY BRIEFS


FDA Approves Two-Month Dose of Aristada for Treatment of Schizophrenia


Clinicians will soon be able to offer patients with schizophrenia the option to extend the amount of time between injections of the atypical antipsychotic Aristada (aripiprazole lauroxil). Earlier this month, the Food and Drug Administration (FDA)

approved

a two-month dose of Aristada for the treatment of schizophrenia

The two-month dose of the medication is expected to be available sometime this month.

FDA Requests Endo Pharmaceuticals Pull Opana From Market

The FDA has formally requested that Endo Pharmaceuticals voluntarily remove its opioid pain medication, reformulated Opana ER (oxymorphone hydrochloride), from the market. "This is the first time the agency has taken steps to remove a currently marketed opioid pain medication from sale due to the public health consequences of abuse," the agency

noted

on June 8.

The agency based its decision on postmarketing data that revealed that Opana ER was being abused via injection following the product's reformulation. (Opana ER was reformulated to make the drug resistant to manipulation for abuse by snorting or injecting.) Injection abuse of the medication has been associated with a serious outbreak of HIV and hepatitis C, as well as cases of the blood disorder thrombotic microangiopathy, according to the agency.

In March, a joint FDA advisory committee

voted

18-8 that the benefits of reformulated Opana ER no longer outweighed its risks.

If Endo Pharmaceuticals does not remove its product, the FDA intends to withdraw the drug's approval. In the interim, the agency is making health care professionals and others aware of the particularly serious risks associated with the abuse of this product.

Teva Recalls Paliperidone ER Tablets in 3 mg Dose

Teva Pharmaceuticals USA Inc. (Teva) has

initiated a voluntary recall

for one lot of Paliperidone Extended-Release Tablets, 3mg, 90 count bottles, lot 1160682A, expiration 6/2018, NDC 0591-3693-19, that was distributed under the Actavis Pharma Inc. label. In coordination with the FDA, Teva has extended this recall to the patient level. The drug is being recalled due to its failure to pass a dissolution test.

Health care professionals are encouraged to report adverse events or side effects to the

fda's medwatch safety information and adverse event reporting program

.
Advertisement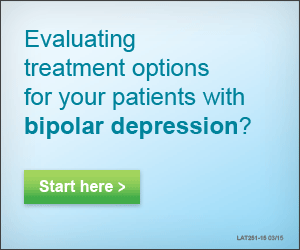 A 37-year-old woman with schizophrenia is brought to the clinic by her mother. She has a history of five hospitalizations in the last seven years for severe psychotic symptoms in the setting of nonadherence to oral medications. You consider using risperidone long-acting injectable (LAI) and propose a treatment plan to the team. The patient has not used risperidone in the past. What is your plan for initiation of this medication?
A. Initial injection of risperidone LAI 25 mg intramuscularly today without oral medication.

B. Initial treatment with risperidone oral for two weeks and then switch to LAI.

C. Initial treatment with risperidone oral until tolerability is established and continued for three weeks after LAI is administered.

D. Initial treatment with risperidone oral and LAI today for two weeks, then LAI monotherapy.

E. Initial treatment with risperidone LAI today with plan to titrate LAI dose weekly to desired efficacy.

Click HERE to answer



Advertisement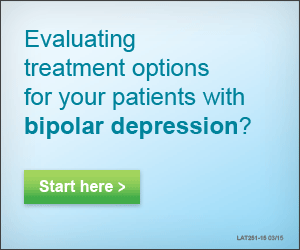 PSYCHOPHARM NEWS FROM APA JOURNALS
Suicidal Behavior During Lithium and Valproate Treatment: A Within-Individual 8-Year Prospective Study of 50,000 Patients With Bipolar Disorder
READ MORE

Antipsychotic Medication Use Among Publicly Insured Pregnant Women in the United States
READ MORE


Have a topic that you would like to see addressed in an article in PsychoPharm? Send your suggestions to Jennifer Carr at jcarr@psych.org.



PsychoPharm Editorial Advisory Board
Philip Muskin, M.D., Columbia University Medical Center (Editor)
Anna Dickerman, M.D., Weill Cornell Medical College
Petros Levounis, M.D., M.A., Rutgers New Jersey Medical School
Jonathan Meyer, M.D., University of California, San Diego
Beth Salcedo, M.D., The Ross Center for Anxiety and Related Disorders, Washington, D.C.
Erin Zerbo, M.D., Rutgers New Jersey Medical School