Point-of-Care EEG Device Could Ease Efforts to Detect Delirium

| | | |
| --- | --- | --- |
| | | Gen Shinozaki, M.D., explains the advantages of using bispectral electroencephalogram (EEG) to assess and monitor delirium. |
FDA Approves First Medication to Treat Tardive Dyskinesia

| | | |
| --- | --- | --- |
| | | Ingrezza, a novel and highly selective vesicular monoamine transporter 2 (VMAT2) inhibitor, is the first and only FDA-approved product for this condition. |
| | | |
Aripiprazole May Reduce Some Side Effects of Antipsychotics in Women

| | | |
| --- | --- | --- |
| | | |
INDUSTRY BRIEFS


FDA Approves Handheld VNS Device for Cluster Headaches


The Food and Drug Administration on Tuesday approved a handheld, noninvasive vagus nerve stimulator (VNS) for the treatment of pain associated with episodic cluster headache in adult patients, according to a

release

by electroCore, the makers of the technology. The device, known as gammaCore, transmits a mild electrical stimulation to the vagus nerve through the skin, resulting in a reduction of pain.

According to electroCore, the FDA decision was based in part on the results of two clinical trials, which compared outcomes in patients with episodic cluster headache who received VNS or sham.

one trial

of 85 patients with episodic cluster headache found that 34.2% of patients experienced a reduction in pain from episodic cluster headache compared with 10.6% in patients treated with placebo. A second trial of 27 patients with episodic cluster headache found that a significantly higher percentage of patients using gammaCore reported being "pain-free" within 15 minutes of using the technology at the onset of pain from cluster headache (47.5%) versus placebo (6.2%). In both trials, gammaCore was found to be safe and well-tolerated, with most adverse events being mild and transient.
Advertisement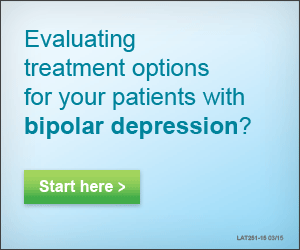 Which of the following is a true statement about management of delirium in an inpatient setting?
A. Pharmacological intervention is indicated even in mild delirium that does not cause sleep disturbance or interfere with medical treatment.

B. For delirium lasting longer than seven days, providers should consider substance withdrawal as the likely cause.

C. Rooms should be kept dimly lit to avoid overstimulating the patient.

D. Mechanical restraints should be used in preference to sitters, because bedside companions often exacerbate confusion.

E. Patients should be frequently reoriented to time, place, and staff members.

Click HERE to answer



Advertisement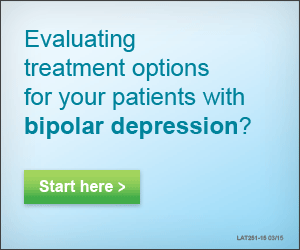 PSYCHOPHARM NEWS FROM AJP
Monitoring of Patients on Second-Generation Antipsychotics: A National Survey of Child Psychiatrists
READ MORE

Diabetes Prevalence Among Racial-Ethnic Minority Group Members With Severe Mental Illness Taking Antipsychotics: Double Jeopardy?
READ MORE


Have a topic that you would like to see addressed in an article in PsychoPharm? Send your suggestions to Jennifer Carr at jcarr@psych.org.



PsychoPharm Editorial Advisory Board
Philip Muskin, M.D., Columbia University Medical Center (Editor)
Anna Dickerman, M.D., Weill Cornell Medical College
Petros Levounis, M.D., M.A., Rutgers New Jersey Medical School
Jonathan Meyer, M.D., University of California, San Diego
Beth Salcedo, M.D., The Ross Center for Anxiety and Related Disorders, Washington, D.C.
Erin Zerbo, M.D., Rutgers New Jersey Medical School